While some people might find moss unattractive on otherwise pristine earth and trees, others might regard them as appealing with its fuzzy, velvet-looking texture.
Regardless of whether you consider moss pleasant or not, some people may want to cultivate it themselves, since moss is quite special in that it is not a plant, but rather what is called "bryophytes," or those that do not require roots or seeds to grow. It is very fascinating, which interests people to perhaps make their own.
In this article, we will give you the steps on how to grow moss indoors, perhaps for the pleasure of your mini-tree right inside of your living room or otherwise for decorative purposes around your house. We will give you all of the information that is needed to make this gardening project a reality for you. Without further ado, let us get started!
Things You Will Need for This Tutorial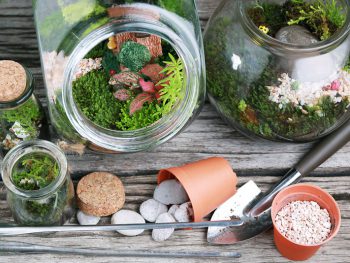 While there are a couple of items on this list which require a bit of shopping around for, the other ones are ones that you can find already at home. Here are the essential items to look out for when finding ingredients for making this bright-green object:
A Glass Container
Having a glass container, rather than an obscured one, will not only help you see the progress of the moss's growth, but also make for an aesthetically-pleasing display for your home. Better yet, it is easily portable, so you can move it to and from places whenever you want.
Pebbles
This is only used to form a solid foundation on which you can put other items so as to start the moss-growing process. There is no specific type of rock that is required for growing moss, so any kind will do.
Moss Sheets and Flakes
In order to start cultivating moss, you will need to obtain already-existing moss for the project. Usually, they can be found in gardening stores as a way to get set up with this fascinating project.
Granulated Charcoal
Interestingly enough, you can find this particular item at fish supply stores. Having this object is especially important since it is the key ingredient for activating moss growth and development.
It does so by sucking up organic chemicals from the air and water, which in turn leads to a clean, fresh layer of green moss. In addition, it fosters the already-there moss, by keeping it healthy and growing.
Potting Soil
To simulate the actual growing environment of most, if not all, moss, use potting soil as the "earth" to do so. In addition, such soil is rich in nutrients and minerals, which make the moss grow even more so, as a sort of feed for cultivation.
Water
Like with any living plant, bacteria, or person out there, moss also needs water in order for it to appear and grow. While you do not necessarily need to water it profusely, just a simple mist-spray of it is the way to go.
Sticks and Stones (Optional)
Especially if you want to get creative and emulate the nature environment in which moss grows, you can add some twigs, differently-shaped stones, and other items from the outdoors to make the moss cultivation more "authentic." Plus, it serves as an excellent aesthetic for your house's centerpiece.
Step-By-Step Tutorial on How to Grow Moss Indoors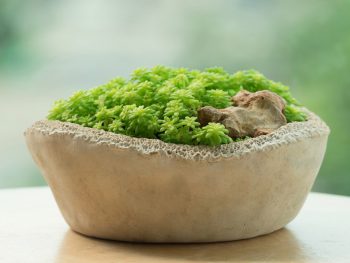 The step-by-step procedures for growing moss, particularly indoors, are very straightforward, so you really cannot make a mistake in you endeavors. All it takes is some love and patience, and pretty soon, you will have a whole backyard teeming in all green! Here are the short, easy step to getting started:
Set up the Container
Make sure that your glass container is clean, for you will need to see through it in order to check on your moss after planting if it is growing. If necessary, you might need to wash and dry your container.
Create the Base
Get started by placing a layer of pebbles at the bottom of the jar, then add granulated charcoal and potting soil (in that word) before giving it a quick mist of water to activate it.
Customize Your Jar
If you want, you can place sticks and stones inside of the jar to make it more "forest-like" for your moss to grow. Essentially, it helps to layer the inside of the container with one side filled with larger or more elevated stones and the other with smaller, lowered ones. Whatever you decide to do with it, it helps to be creative!
Add the Moss Sheets and Flakes
The important thing now is to add the mossy objects to your container to activate moss growth and development. Place the moss sheets over the larger stones for more area (and for aesthetic reasons) and top it off with moss flakes a bit all over the inside of the jar, so that they will create a nice, spotty-moss effect once they begin to grow abundantly.
Mist and Cover the Moss
Spray the moss again with some water. It helps to have a spray bottle around, just so you do not overwhelm the moss with too much water by accident; additionally, misting the moss helps to evenly distribute the water all over the inside of the container.
Cover the container either with a lid or plastic wrap (the former is more aesthetically-pleasing than the latter), leaving just a bit of space for air to enter. Place the jar away from sunlight to kick-start its growth process, for moss tends to flourish with just a small bit of sun, or under grow lights. As a rule of thumb, make sure that the moss is not directly exposed to the sunlight, for it can cause problems with its growth.
Press down on the Moss
When you first plant the moss, make sure that you press down firmly against the rocks to make it stick and have a base to hold on to while it is growing.
For obtaining moss sheets and flakes, the simplest way is to gather samples from the environment, whether it is at the forest near your home or just on the sidewalk with cracks for plants to grow over. Just make sure that you are not breaching any property when doing so; it helps to ask for permission first!
Display!
Once you start seeing the moss start to form on the rocks, it is ready for being displayed at home! You can choose to transfer it to your living room as a centerpiece or inside your bedroom for some lovely ambiance. Again, it is important to place it away from direct sunlight for the best growth and character, but otherwise, anywhere is fair game!
Conclusion
All in all, growing moss indoors is an easy task that yields plenty of good results. Besides doing it on your own, it can also be easily done with friends, family, and even your children! Moss goes well with any plant with its colorful and rich texture, and it serves as a great ambiance to your home.
Happy gardening!