Are you interested in gardening? Or perhaps you have a fondness for artichokes? If you answered "yes" to both of these questions, then you just might be interested in harvesting your own artichokes.
Packed with nutrition and versatile in almost any food dish you can think of, artichokes are not as difficult to grow as you had believed, and in the end make for a worthy item to invest in. In this article, we will help you figure out when to harvest artichokes.
Choosing Perennial vs. Annual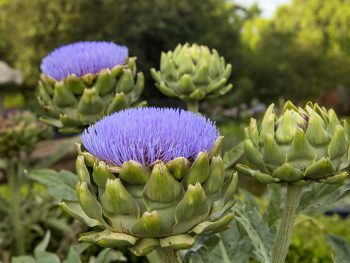 Before you get started with planting and harvesting, it's important to figure out what type of artichoke you would like to grow. Essentially, it all comes down to two categories of this flowered vegetable, which we outline here:
Perennial
These are plants or flowers that can live for more than two years. They continue to grow each year until reaching full maturity, which on average is between three and five years.
Perennials usually have short blooming periods, about one to three weeks long. They don't often need to be replanted frequently, but sometimes are replaced after three to five years when their quality starts to decline.
Annual
On the other hand, annual plants or flowers have only a one-year cycle of growing, from seed to plant within one season. They have to be replaced every year, but their blooming cycle is very long, often from spring to autumn.
With that said, knowing the difference between these two types of growing plants will help you figure out just what kind of artichoke you would like to harvest, especially since artichokes can be either perennial or annual.
Selecting the Environment
Knowing the difference between perennial and annual artichokes are important when it comes to determining just how to go about harvesting them. However, another necessary aspect to think about is choosing the best environment for doing so. Here are some factors to consider:
Location
You'll need to ask yourself if you would like to harvest your artichokes indoors or outdoors. Considering that artichokes can be grown in either place, it is up to you to decide just how to want to go about planting them.
For harvesting indoors: it's best to choose annual artichokes since they'll hold up better in the sunlight. Keeping them outdoors, especially in cold weather, will kill them off before they can even bloom.
For harvesting outdoors: it's advisable to go with perennial, for they tend to be more hardy and resilient to changes in the environment. As a result, you won't have to worry about them easily withering once it comes to cultivating them.
Climate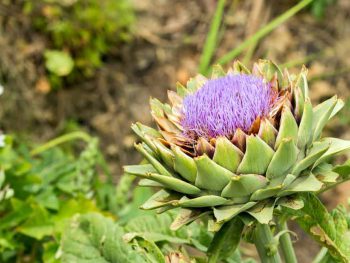 This aspect goes hand-in-hand with location, as temperatures do make a difference on how artichokes grow. They thrive the best in warm, sunny climate for long periods of time, and so it's essential to give them as much sunlight as possible.
When deciding on the climate to harvest artichokes, it's helpful to refer to the Hardiness Zone index, which is a way to determine which areas are suitable to grow plants based on their durability, or "hardiness."
Typically, artichokes can thrive in climates around zone 7 or above, although it has been possible to grow them in areas as low as zone 4. For higher zones, you can choose to grow perennials while instead harvesting annuals in lower zones.
For more information about the Hardiness Zone, check it out here.
Season
Since artichokes love warm weather, the ideal time to harvest them is in the summer, and continuing to do so until frost. The months of July and August are especially the best moments to begin growing this edible flower-plant.
How to Harvest Artichokes
Now that you've started growing your artichoke, it's time to figure out when they're ready to be harvested. A rule of thumb is to look at the buds: once you see them reach full size, you'll know that they are ready to be picked.
Start by cutting off the bud, and then cut off three inches from the stem; however, if you're harvesting them in a cooler climate, cut off up to twelve inches. Afterwards, continue to water and nurture the artichokes, making sure to cut back more with each harvest..
Take away message
Overall, harvesting artichokes isn't as difficult as you might have imagined it to be. You don't even have to have a green thumb to master it- anyone can grow them! By doing a bit of research and preparation, you can make a DIY garden of your favorite, edible flower-plant.
To reiterate, here are the steps to take when harvesting artichokes:
Know the difference between perennial and annual, and which one would benefit you best.
Consider the environment (climate, location, season) in which you want to harvest them.
Harvest them as soon as buds begin to bloom.
If you have any other questions, please post them in the comment form below.