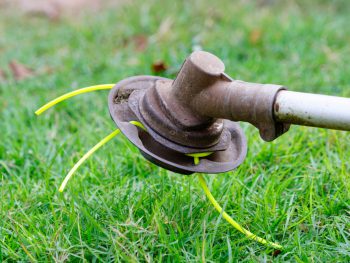 When it comes to gardening, sometimes you also need to prune out some extra, overgrown leaves, grass, and branches in order to ensure a clean, well-maintained environment. Having a pair of pruners or brush cutters are a good start, but investing in a string trimmer line can be more practical when it comes to getting to hard-to-reach places.
In any case, besides making the effort to buy the ideal string trimmer line, you will also need to find a solid string trimmer head for the item itself. Aside from being adjustable and powerful, it should also be fitting enough to work with just about any object out there. With so many choices out there, you might be overwhelmed on how to get started.
However, we are here to help! Read on to learn more in this article on how to choose the best string trimmer head for your next pruning session, as well as receive some of our top picks and suggestions to get you started. Soon enough, you will be trimming those hedges and grass like a pro.
Without further ado, let's get started!
Comparison of Top 5 String Trimmer Heads 2021
**Below, you'll find more detailed reviews but you can also click links above to see current prices and read customer's reviews on Amazon.
Reviews of the Best String Trimmer Heads
STIHL 4006 710 2106 5 2 AutoCut C Trimmer Head
(Editor's Choice)

Compatible with the 5-2 blade type, along with the standard 0.080-inch diameter, STIHL's AutoCut C Trimmer Head makes for a convenient one to have when it comes to trimming small to medium-sized plots of land.
It has a double line for both trimming and mowing, as well as a nylon line that is automatically fed through tap action.
Pros
Comes with the standard 0.080-inch diameter for small and medium-sized trim work.
Has a double line for both trimming and mowing.
Contains a nylon line that can be automatically fed through tap action for quick access.
Cons
Does not hold a lot of line, so needs to be frequently reloaded.
Oregon 55-265 Speed Feed 2 Line Trimmer Head
Containing a 4 ½ inch two line speed-feed head, Oregon's trimmer head is a quick and convenient tool to use for trimming your lawn or bushes with little to no effort.
In addition, it comes with large durable eyelets to increase its long-lasting quality, as well as adapters for size measurements and whatnot. In the end, it makes for an easy, reliable trimmer head.
Pros
Contains a 4 ½ inch two line speed-feed head for little to no effort in trimming.
Has large durable eyelets to increase its long-lasting quality.
Consists of adapters for size measurements.
Cons
Loading the line is not very smooth, thereby risking jams.
Echo 9994420097 Speed-Feed 400 Universal Trimmer Head
Echo's speed-feed 400 trimmer head is great for beginners to use. This is due to the fact that loading the line is straightforward without any tangles or trauma getting in the way, as well as tapping the head for feeding the line in to begin work right away.
It is quite long, too, so that you do not need to be constantly reloading every time the string runs out, so you can keep at it for long periods of time.
Pros
Loading the line is straightforward.
Tapping the head for feeding the line is convenient.
Long enough to reload less frequently.
Cons
Might be difficult to take out the spool afterwards.
Husqvarna 966674401 T25 Tap Trimmer Advance Head
Able to fit lines of 0.065 inches, 0.080 inches, and 0.095 inches, Husqvarna's trimmer head is super advanced and adaptable for producing a versatile amount of different cuts and trims that your garden will most likely benefit from.
It is also sturdy due to its high-quality material, so as to guarantee a life-long investment.
Pros
Can fit lines of 0.065, 0.080, and 0.095 inches.
Is versatile and adaptable for producing different cuts depending on your garden.
Is sturdy, able to last you a long time.
Cons
Some parts might be missing depending on the package.
Shindaiwa Speed-Feed 400 Universal Bump Feed Trimmer Head
New and improve in comparison with its speed-feed 375 version, Shindaiwa's speed-feed 400 trimmer head offers more power and is compatible with just about any other string line trimmer brand out there.
So, you do not have to worry about buying the same one. It accepts up to a 0.105-inch thickness, along with both straight and curved trimmers.
Pros
Is compatible with other string line trimmer brands for convenience.
Accepts up to 0.105 inch in diameter.
Works with both straight and curved trimmers.
Cons
Ironically, it does not fit the Shindaiwa string line trimmer.
Things to Consider When Choosing a String Trimmer Head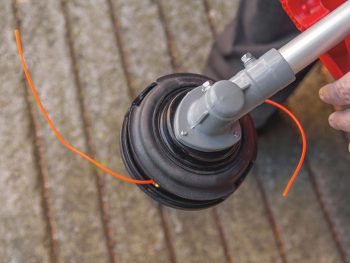 Now, just like with any gardening object out there, it is important to keep in mind the functionality and quality of the product, since you would want for it to a not only powerful, but also sturdy enough to last a lifetime. Hence, we propose some ideas to consider when looking for the best one for you:
Shape and Thickness of Your Grass/Environment
First things first, it is important to consider your garden's surroundings in terms of how hefty your trimmer head can take on for the project at hand. In other words, you will need to look at the shape and how thick your grass, let alone environment, is for trimming away.
For instance, it comes down to how much work you need to put into clearing away the extra amount in your garden or yard. From light to medium-heavy to forestry, here are some things to look into for each type:
1. Light Trim
Normally, these are more lightweight than the other two types listed below, and they are, of course, used for small maintenance work from time to time.
They are also quick-loading, so that you do not need to worry about taking a lot of time adjusting to make it work. Finally, they have automatic proper-fitting length to detect just how short to cut it, for an even trim all the way around.
2. Medium-heavy Trim
More akin to mowing rather than just a "light trim," medium-heavy string trimmer heads offer more power and coverage for both hard-to-trim factors and larger garden areas, respectively. Their blades are more likely sturdier than those of light trim ones, and contain up to four blades, rather than two.
4. Forestry
Especially if you are in industrial work and need to have a string trimmer head that can take on such a huge project, then one that specializes in forestry will work for you. The blades are expected to be much stronger, was well as sturdier, when it comes to cutting through the thickness of branches, grass, and shrubs.
That said, if you are not in industrial work, then you probably do not need this type of trimmer head for the average homeowner.
Manual Versus Electrical
While it is the trend in this day and age to go for electrical appliances for gardening, there still are upsides and downsides to getting items such as electric trimmer heads.
That said, it is a matter of picking and choosing which type of trimmer head will suit your needs and that of the environment's. Here are the two types to consider:
1. Manual
Considered "old schooled" or "old fashioned," manual trimmer heads require fueling them up (often with gas or other energies) before putting them into action.
While not the most eco-friendly tool out there, nevertheless it is more powerful than electric ones and can serve to last a long time, especially if well-taken cared of.
2. Electrical
Popular among homeowners and gardeners, electric trimmer heads are lighter in weight, easier to carry around, and easier to operate.
It might not be as powerful as a manual one, nor being able to cover as much area as quickly as one, but nonetheless it remains a good investment for personal homes and gardens for a decent trim.
Size of the Head
Essentially, are you looking for big or small heads? Might sound like a strange question, but all the same, it will make a big difference when it comes to adjusting to the right size for that of your garden's.
For instance, it would be more logical to get a smaller head (perhaps under 0.010 inches in diameter) for lighter projects or smaller gardens, rather than one which is over 0.100 inches in diameter and might serve well for other gardeners with bigger lawns, or even a forest!
Head and blade sizes come in standard ones, but there are opportunities to customize, if need be. In the end, it is up to you!
Shape of the Blade
Again, depending on how heavy your workload is, it can determine which blade shape is worth investing in.
For instance, lighter blades for lighter workloads only contain two, spinning blades, which might work well for cutting grass, but not for eliminating an entire forest.
On the other hand, larger blades for heftier jobs are more compact in their shape, in which the blade comes with smaller, but sharper teeth that can be driven into whatever it is cutting, no matter how thick it is.
That said, there are so many options to choose from when it comes to the string trimmer head itself, along with its accessories, but by carefully looking over your choices and knowing what you want, you can find the ideal one to have to keep in the future.
Our Top Pick
When it comes to consistency and power, STIHL 4006 710 2106 5 2 AutoCut C Trimmer Head is the clear winner.
Its standard-sized diameter makes it adaptable for small to medium-large trimmings, and it can be quickly accessed for saving time and energy when working on your garden. It is a worthwhile investment, so perhaps you might enjoy it!
Have you found this breakdown helpful? If so, please let me know in the comments. Be sure to share your own recommendations!
Happy gardening!