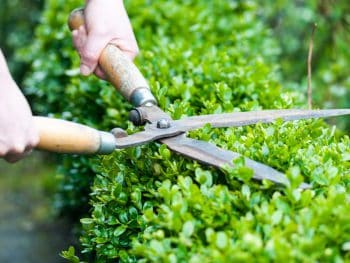 When it comes to pruning your garden, you have many options: from bow saws to pruning saws to pole saws, the possibilities are endless for keeping your lovely backyard space weed-free, well-trimmed, and overall with good aesthetics. You are perhaps a dedicated and passionate gardener who cannot stand to see your garden fall into disarray, and so that is why you would choose to work hard to maintain it in perfectly-mint condition.
That said, discovering all of these different choices can be extremely daunting for you, especially if you have no idea where to start. In fact, you might be so overwhelmed that it might discourage you not to take action to get started. However, we can solve that problem by offering you the choice of hedge shears, which are not only sharp objects, but also precise and efficient in getting rid of those pesky, overgrown areas in your garden.
In this article, we will teach you the ideal ways to find the best hedge shears for you, as well as offer you some of our top picks to get you well on your way. Soon enough, you will be trimming away in style and with ease. Without further ado, let's begin!
Comparison of Top 5 Best Hedge Shears for Your Garden 2021
**Below, you'll find more detailed reviews but you can also click links above to see current prices and read customer's reviews on Amazon.
Reviews of the Best Hedge Shears for Your Garden
Tabor Tools Extendable Hedge Shears
Tabor Tools extendable hedge shears come with distinctive features that are sure to make your hedge trimming experience convenient and manageable. From its shock-absorbing bumpers to reduce vibrations and fatigue to sharp, wavy blades for the precise cuts on your hedges, it is sure to help you out in the long run.
Pros
Contains shock-absorbing bumps that can help you reduce vibrations while working, thereby reducing arm and shoulder fatigue.
Has sharp, wavy blades to make the finest, most precise cuts to your hedges.
Has telescopic handles that can reach up to 33 inches above your hedges.
Cons
The twist lock for the shears opens up too easily, which can be hazardous.
Fiskars 23 Inch PowerGear Hedge Shears
Fiskars 23-inch hedge shears is unique in that it is approved for people who have arthritis, thereby having features that make it easier for them to handle the product whilst trimming.
Its PowerGear non-circular gearing mechanism makes it even easier to cut through hedges and its DuraFrame handles make for a lightweight, but long-lasting product to have.
Pros
Is award-approved to use for people with arthritis.
Contains a PowerGear non-circular gearing mechanism that makes it three times easier to cut through hedges.
Has DuraFrame handles that are lightweight, but also made from sturdier material than steel for longer use.
Cons
Blades bend easily, which might not be as durable as imagined.
ARS HS-KR1000 Professional Hedge Shears
With a distinctively-narrow design and a special shape and balance for long-lasting usage, ARS's professional hedge shears are a solid pair to have for your next garden trimming project.
It has a sharpness to the blade that can help you get through even the worst of overgrown hedges, as well as is made from highly-durable material to keep you satisfied in the projects to come.
Pros
Has a special shape and balance to its design, making it both elegant and utile for home gardening.
Contains a distinctive sharpness to the blade for quick, efficient results.
Made from highly-durable material for longer-lasting usage.
Cons
A bit on the small side; might not have much comfort when cutting hedges.
Okatsune Precision Hedge Shears
(Editor's Choice)

Made from Japanese white oak, Okatsune's precision hedge shears are super light and with a length of 21 inches, they can cut through just about any height, size, and length out there.
It is flexible to maneuver even through the smallest of nooks and crannies in the hedges, as well as having blades which do not dull too much over time. Sharp and portable, Okatsune's hedge shears are fast and efficient to get a job well done in a short amount of time.
Pros
Are super light at only 1.12 lbs., as well as is 21 inches for cutting through just about any height, size, and length in your garden.
Are flexible to use around the garden, even getting into the smallest spaces for you to cut through.
Are sharp and portable to deliver fast and efficient work to you in no time.
Cons
Can be difficult to clean, especially when sap gets on it.
Miracle-Gro 18978 Titanium Blade Hedge Shears
Consisting of Titanium bonded blades and recyclable material, Miracle-Gro's titanium wavy blade hedge shears are three times harder than your normal hedge shears while also being environmentally friendly, respectively.
They are especially resistant to corrosion and adhesion, as well as having blade tension control to keep things flowing smoothly and manageable.
Pros
Are made from titanium bonded blades, which give them that extra strength compared with other hedge shears for longer-lasting durability.
Are made from 70 percent recyclable material, which contributes to a clean environment.
Have a blade tension control for easier management, keeping things smooth and clean-cut.
Cons
Might be too light for some people, which can lead to arm and shoulder problems.
Things to Consider Before Purchasing Hedge Shears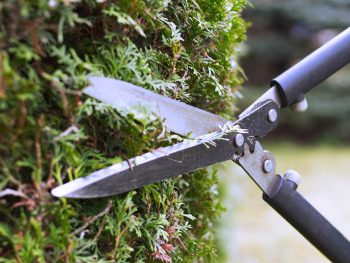 Believe it or not, there are many aspects that you will need to consider when you are searching for and ultimately purchasing hedge shears for your garden. Below, you will find a few factors to take into account during the process:
Consider Height, Size and Length
These three aspects refer to the hedges themselves: you will need to ask yourself questions such as how tall are my hedges?, how big are they?, how many meters are there? and so forth.
For instance, when it comes to small hedges, perhaps a pair of hand shears will suffice. However, with tall hedges, having an extendible blade to reach those top levels will come in handy- the same goes for having many hedges to trim off.
Consider the Type of Hedges
This relates to both garden carts and wheelbarrows, since both of them can come in either large or small sizes, depending on just how much you want to load up for planting. Strength-wise, having a larger garden cart or wheelbarrow is the way to go.
Consider Extendibility
There also exists long-reach, extendable hedge shears, which essentially can be used to reach tall, difficult-to-reach places on the hedges. They can be found as electric, gas, or cordless types, and it can be multi-tooled to satisfy just about any function you need.
Granted, it can be a bit challenging to navigate the length of it from below on the ground, but it gets the job done.
Consider Specific Features
You might also consider this point as "accessories," so that aside from the type of hedges, there are also little details that can make your hedge shearing experience more manageable. Here are the features:
Blade length.

Ranging from 45 centimeters to 70 centimeters, blade length can be an advantage for cutting tall or short hedges, depending on their sizes. A thing to know, however, is that the longer it is, the heavier and more difficult it is to handle it, so keep that in mind.

Weight.

Obvious as it sounds, there are lighter and heavier shears to choose from, such as that of electric and gas, respectively. It helps to know how much you need to cut: if it is a small amount, then a lighter one will work, while many overgrown hedges can benefit from heavier, more powerful options, in order to get the work done sooner than later.
Comfort. From rubber hand grips to padded, adjustable shoulder straps, remaining relatively comfortable while performing an otherwise hefty task can make it a lot easier to manage, even enjoy yourself.

Durability.

As a rule of thumb, steel material is best for hedge shears production, since it is resistant to wear and tear over time more so than other kinds of materials out there. While rusting can be a problem, choosing steel or other durable materials for your hedge shears can make a huge difference in your investment over time.
Our Top Pick
Altogether, the winner of this roundup goes to Okatsune Precision Hedge Shears. What makes this distinctive pair of hedge shears special is that it is so versatile to use for both small and large hedges, along with a lightness and portability to make your trimming experience a pleasure. You will not regret getting these for future gardening projects!
Have you found this guide helpful? If so, please let me know in the comments. Be sure to share your own recommendations!
Happy gardening!