"I hope you love the products I recommend! When you buy through links on sharycherry.com, I may earn an affiliate commission."
When it comes to keeping your garden in clean and upmost pristine shape, perhaps you would go to major extents to do so, as means of achieving that high goal.
You have done your fair share of pruning and lawn sweeping, so you know just what it takes to maintain a perfect lawn in your backyard. However, you were recently on vacation for a few weeks, thereby meaning you were not around to tend to your lawn.
Since then, you returned to discover that your lawn has tripled in growth, with grass blades scaling up to your knees and weeds running rampant throughout the property. First thing that comes to your mind is a lawn mower, which is the most practical item to use.
At the same time, your backyard is so enormous that you will need to spend hours, if not days, just getting around to it all. Your thoughts turn to a riding lawn mower, although you do not have much knowledge in it.
Do not worry, though: we are here to help! Read on to learn more in this article on how to choose the best riding lawn mower for your money, and soon enough, you can get to trimming up your lawn in no time. Let's get started!
**Below, you'll find more detailed reviews but you can also click links above to see current prices and read customer's reviews on Amazon.
Things to Consider Before Purchasing a Riding Lawn Mower
Before you go ahead and jump right into buying your first-ever riding lawn mower, you will need to take a step back, do some research, and inquire about it with a professional at your local hardware and gardening store.
Choosing a solid riding lawn mower is serious business, since it can determine your experience with using it. Down below, we provide a few things to look into before you buy a riding lawn mower:
Tractor Versus Mower
First things first, you will need to decide if you actually need a tractor over a mower, depending on the type of work you need to do in your garden.
While both tractors and mowers have similar properties, they can differ greatly in terms of size, power, and even efficiently. We list the differences between the two below:
1. Top Wide-Deck Tractors
Although they can be pricier than that of mowers, tractors are nevertheless more powerful and can trim through larger areas of grass in a shorter amount of time than mowers.
They tend to have a longer belt life, i.e. more durability, and they come with features such as bagging and mulching to make the job easier to do.
2. Top Zero-Turn-Radius Mowers
On the other hand, mowers might be lighter and not cover as much space at a time than tractors, but they are more agile and flexible to move around than tractors, i.e. not as cumbersome.
They are better for handling smaller lawns, since it does not cut as much as tractors, but all the same are quite a good value for your money.
Maneuverability
Considering that you will need to steer the riding lawn mower, you will need to find one which can be easy to maneuver, without being too burdensome and potentially dangerous to do.
It all comes down to the wheel's range of movement, some of which can be more limiting than others. It is worth a shot to try out a few of them to get a feel for each, before you end up deciding on just which one to get.
Size of Mowing Deck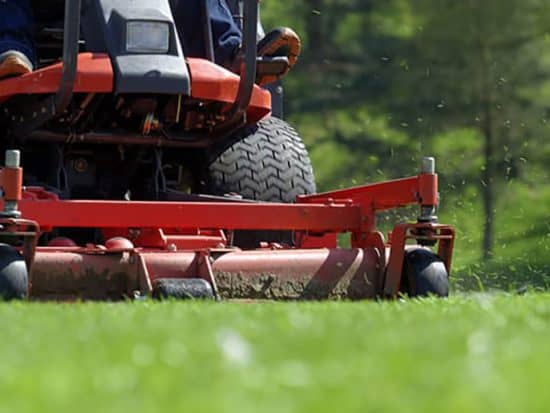 The mowing deck refers to the item on the riding lawn mower itself, which is in charge of mowing down the heavy-duty grass and weeds sprouting up in your backyard.
They range variously, from a modest 42 inches to a much-larger 54 inches. Generally speaking, the larger your mowing deck is, the more area it can cover.
For the most part, mowing decks found on riding lawn mowers are smaller than that on tractors, which can be limiting if you have a lot of space to work with.
However, by taking into account just what you need depending on your garden size, you can make good calculations to figure out which mowing deck will be more suitable for you.
Features and Accessories
Aside from the practical affairs such as choosing between a tractor and a mower, finding an easy-to-maneuver wheel, and discerning the ideal mowing deck size, all that is left is figuring out just what other features and accessories there are for you.
Even though they are not must-haves for the sake of trimming your lawn, nevertheless they can be super helpful if there to assist in making the trimming operation more convenient and less overwhelming. Here are some to consider:
1. Seat Comfort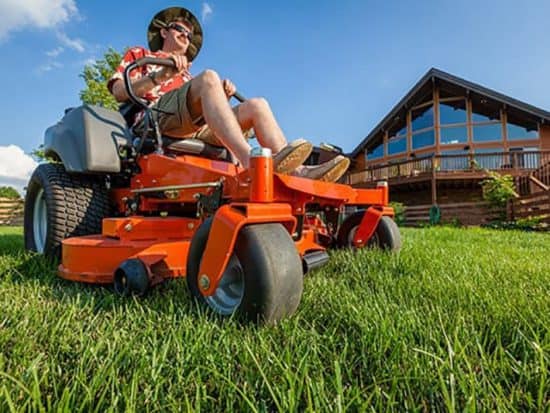 Considering that you will be sitting in a riding lawn mower for the most part when operating the machinery, it does help to feel comfortable while doing so.
In other words, having some cushioning on the seat bottom can make things more bearable, especially if you will be at it for a couple of hours.
2. Adjustable Cutting Height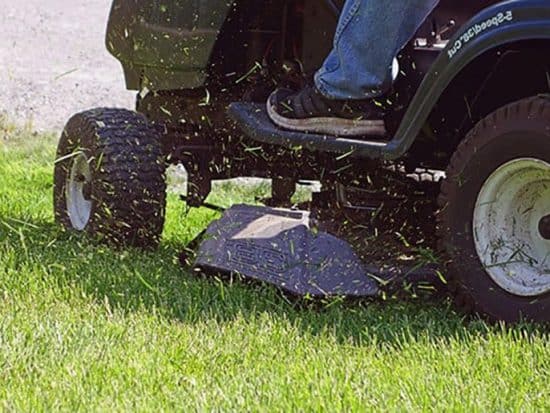 Not all grass necessary grows up to the same length, let alone you choosing to cut your lawn at a set interval.
That said, having an adjustable cutting height (usually located under your seat) is very customizable, so that it gives the individual choices for maintaining their lawn the way they want it.
3. Automatic Cut-off Engine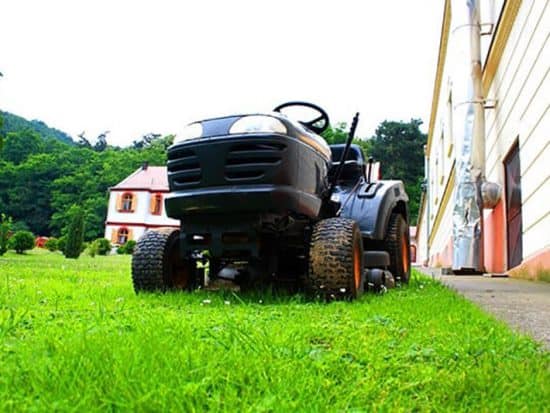 For safety purposes, it is a good idea that your riding lawn mower comes with an automatic cut-off engine, especially if you have lost control of the steering.
The cut-off engine works by shutting off the machinery when you stand up or get off of it, thereby sparing you the need to manually shut it off and waste time.
In essence, it is an important safety precaution to take, as means of keeping it together when mowing the lawn.
Top 5 Best Riding Lawn Mowers for The Money Reviews
Husqvarna 960430211 YTA18542 18.5 hp Fast Continuously Varilable Transmission Pedal Tractor Mower, 42"
Consisting of a fast auto transmission, Husqvarna 960430211 lawn mower offers a maintenance-free operation for that smooth and convenient ride around your garden.
Besides that, its modest 42-inch mowing deck is ideal for smaller lawns, should you have one.
Finally, its air induction mowing technology ensures improve airflow, in order to keep a consistent cut going on.
Pros
Has a fast auto transmission for a maintenance-free operation.
Has an air induction mowing technology for better air flow.
Contains a spring-assisted mounted deck lever for easy maneuvering.
Cons
Not as easy to maneuver around tight spaces as expected.
Opinion
I found Husqvarna 960430211 lawn mower to be on the small side, but appropriate for my small-medium backyard.
It has done a decent job of trimming the grass in a good amount of time, as well as having consistent cuts throughout thanks to the air induction mowing technology.
My only gripe is that it is not very flexible when it comes to mowing around, say, a tree trunk or other tight spaces.
Husqvarna 960450057 GTH52XLS 24V Hydro Pedal Tractor Mower, 52"/Twin
Ergonomically designed, Husqvarna 960450057 lawn mower is excellent in its adjustable high back seat, equipped with arm rests and a comfort-grip steering wheel to make your mowing experience as pleasurable as possible.
Aside from that, it also has an easy pull switch for electric engagement of cutting blades, thereby making it all the easier to operate.
Pros
Has an adjustable high back seat with arm rests for a comfortable mowing time.
Contains a comfort-grip steering wheel for easy maneuvering and control.
Consists of a pull switch for easier electric engagement.
Cons
Difficult to see the fuel gauge level to check for amount remaining.
Opinion
Husqvarna 960450057 lawn mower had quite a comfortable seat, which I really enjoyed: I had no problem feeling good even during long hours of usage.
The pull switch has been really helpful for easier electric engagement.
I suppose the only thing that could be worked on is the fuel gauge level, which is hard to keep an eye on when in operation- perhaps move it closer to eye level in future production.
Troy-Bilt TB42 42-inch 420cc Auto Drive 7-Speed Side Discharge Riding Lawn Tractor
Troy-Bilt's lawn tractor also operates as a mower, with a single-pedal automatic with up to 7 different speeds to choose from.
In addition, it comes with 5 position deck height adjustment to accommodate for any type of mowing you do.
Finally, its 13-gauge steel Step-Thru frame offers easy access and comfort, to ensure that you can produce the best work you can in one mowing session.
Pros
Comes with a single-pedal automatic with up to 7 different speeds.
Has a 5-position deck height adjustment for any type of mowing.
Contains a 13-gauge steel Step-Thru frame for easy access and comfort.
Cons
42-inch mowing deck might be a bit too small for larger backyards.
Opinion
Troy-Bilt's product proves to have a lot of possibilities, which I much appreciated.
Not only did I like the different speed options, but also the deck height adjustments and steel Step-Thru frame for a more customized mowing experience.
The mowing deck could be made a bit bigger, but in any case, it is a solid mower to begin with.
MTD 13BC762F000 Yard Machines 10.5 HP Riding Lawn Mower, 38-Inch
Optimal for medium to large-sized lawns, Yard Machines riding lawn mower is sure to give you that extra power and amp to get the job done in no time.
Its 38-inch mowing deck is a bit on the small side, but it makes it up with a 5-position height adjustment for just about any mowing session.
Besides its 6-speed features, it can also adjust between speeds easily with its program, for a smooth and efficient transition.
Pros
Has a 5-position height adjustment.
Contains 6 different speeds for variety.
Features options for easily shifting from one speed to another.
Cons
Tends to vibrate and make more noise than usual when operating.
Opinion
Yard Machines' riding lawn mower offered a solid amount of variety when I used it, specifically with its height adjustment and different speeds, the latter of which I could shift easily back and forth with.
The only issue I had with it was that it tended to vibrate and make more noise than I was accustomed to, which was a bit burdensome.
Troy-Bilt 382cc Powermore OHV 30-Inch Premium Neighborhood Riding Lawn Mower
(Editor's Choice)

This other product from Troy-Bilt is powered by 382 cc and it has running speeds of up to 4.25 mph and a 6-speed transmission to do so.
Built on power and speed, it is a solid candidate for you to own, for its 18-inch turn radius makes for a convenient way to cover just about any nook and cranny of your lawn, so that all grass blades get cut to even proportions.
It is great for medium-sized lawns, and it can be sure to satisfy you.
Pros
Powered with 382 cc with speeds up to 4.25 mph.
Has an 18-inch turn radius to cover just about everywhere.
Ideal for medium-sized lawns.
Cons
Clutch might jump irregularly, which can be iffy.
Opinion
This riding lawn mower from Troy-Bilt was surprisingly fast when in operation: I got to experience its 4.25 mph maximum speed, which was a solid A in my books.
The rather wide turn radius was also a good feature, and I got to cover more ground with it than with other models.
Granted, the clutch jumps from time to time, but not frequently enough to merit it a problem.
Winner of the Roundup
Overall, Troy-Bilt 382cc Powermore OHV 30-Inch Premium Neighborhood Riding Lawn Mower is the winner of this roundup.
It does a quick and complete job of covering all of the bases in your backyard, as well as keeping things simple and efficient. Consider this item for purchase, should you end up doing so.
Have you used one of these riding lawn mowers? Let us know in the comments below if you found this article helpful, and share it with your foodie friends.
Happy gardening!