"I hope you love the products I recommend! When you buy through links on sharycherry.com, I may earn an affiliate commission."
Thinking about planting a tree, but don't have the room for it? If you are concerned about space for growing a tree, then why not consider investing in small trees? Not only are they super cute in miniature size, but they also won't take up too much space in your yard, thereby allowing you to add more items to the area, or just let it roam freely in wild, natural abundance.
Whatever you choose to do, we've got you covered. In this article, we'll share with you our favorite picks for the best small trees for landscaping. We'll also include the Hardiness Zones for each species, to help you figure out if it's good to grow in your particular climate. Pretty soon, you'll be growing beautiful small trees in no time! Let's begin the list!
Maple Trees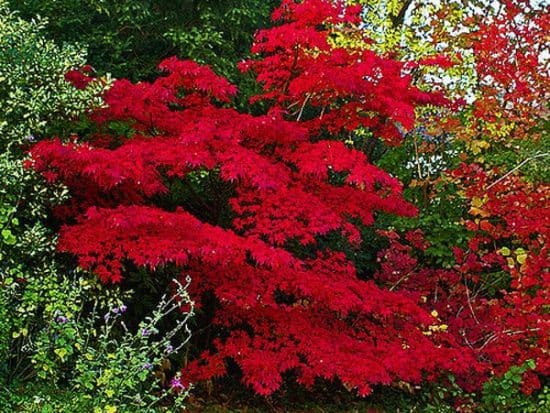 These distinctive trees are super colorful during the fall season, which makes them especially appealing to the garden in the colder months of the year. Even more so, there are a variety of different types to choose from. Here are just some of our favorites from this category:
Evergreen. (Up to Zone 6) Also known as "Cretan maple," this special tree works well with poor soil, as well as both damp and droughty climates. They are extremely hardy and grow up to 30 feet tall.
Full Moon Apple. (Zones 5-9) This maple tree grows between 15 and 30 feet, and turns lovely shades of red and gold in the autumn.
Japanese. (Zones 5-8) One of the most popular small maple trees grown, the Japanese maple is classy in design and shape, as well as provides some shade during hot days. It grows between 15 and 30 feet.
Paperbark. (Zones 4-8) With a beautiful cinnamon-colored bark, this maple tree is a wonderful contrast with bright, green leaves. It grows up to 25 feet and is good with sun or shade.
Vine. (Zones 6-9) Popular in the Pacific Northwest, this special maple tree grows well with nicely-drained soil and some shade; it reaches heights between 20 and 30 feet tall.
Dogwood Trees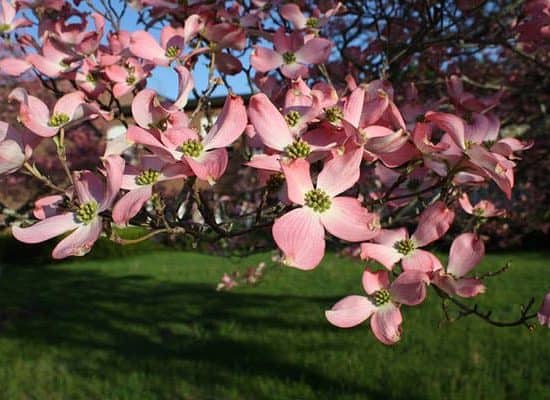 Not only are dogwood trees considered quite beautiful to plant, but they also contain dogwood berries (depending on certain species) which have been known to have health benefits on the body when ingested. Here are some of our favorite dogwood trees:
Cornelian Cherry. (Zones 4-8) Producing bright yellow flowers during the springtime, this dogwood tree offers a sunny and vibrant atmosphere for your garden. It grows up to 25 feet.
Kousa. (Zones 5-8) Beautiful and resistant to plant diseases such as anthracnose, the flowers on the Kousa dogwood hold up very well in the spring and the tree itself reaches up to 30 feet high.
Redtwig. (Zones 2-7) While only growing up to 9 feet tall, the redtwig dogwood makes up for the height by growing up to 12 feet wide. It thrives in all seasons, producing creamy white and blue hues and berries.
Ornamental Crabapple Tree (Around Zone 4)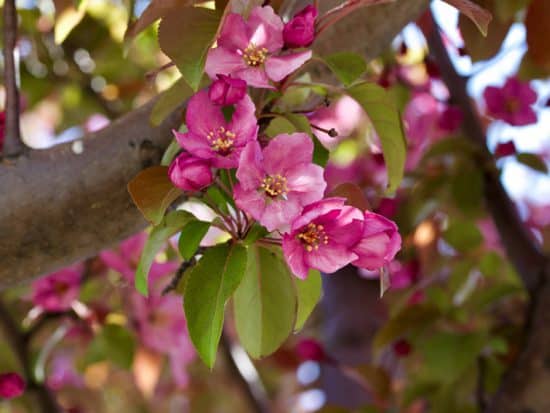 With vibrant colors like pink, red, and white, ornamental crabapple trees give you that extra pop in your garden. It reaches between 15 and 25 feet tall and are good for planting just about anywhere: homes, parks, public buildings, even the highway.
Fringe Tree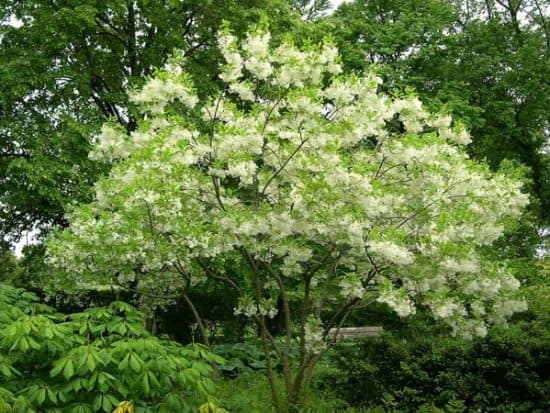 Often overshadowed by other prominent small trees such as dogwood and magnolia, the fringe tree is tougher, longer-living, and better-smelling than other small tree varieties out there, according to fringe tree lovers. Why not see for yourself if it's true? Here are two varieties for you to check out:
White fringe. (Zones 4-9) Gathered in a lacy flower design, this particular fringe tree offers a light, fleecy look for your backyard tree.
Chinese fringe. (Zones 6-8) Greener in color than its white fringe counterpart, the Chinese fringe tree still has that soft, light accent to it while also being more fragrant.
Dwarf Hinoki False Cypress Tree (Zones 5-8)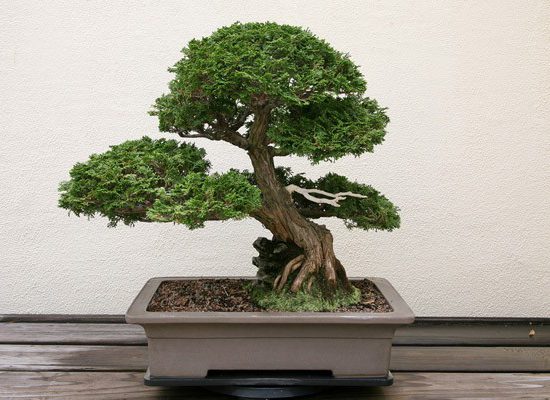 Reaching up to 15 feet in height, the dwarf Hinoki false cypress tree contains arching branches which appear to droop downward, giving it character and charm. Its soft appearance makes for a pleasant small tree to grow in just about any home garden.
Magnolia Trees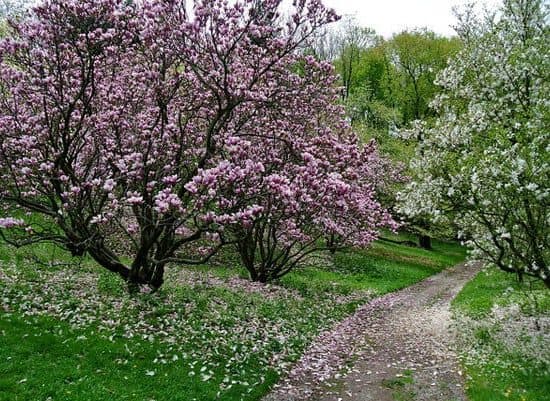 With over 80 different species that come in a variety of colors (magenta, pink, white, yellow), magnolia trees are all sorts of distinctive, beautiful shapes and sizes while also being suitable for many different zones. Here are our picks for good, small magnolia trees:
Banana shrub. (Zones 7-10) With the warm smell of the eponymous yellow fruit, the banana shrub has a nice blend of creamy green and yellow flowers while also reaching heights of 15 feet.
Champaca. (Zones 10-11) Hardy with super fragrant orange-yellow flowers, the champaca tree serves as either a shrub or small tree with heights between 10 and 30 feet.
Oyama magnolia. (Zones 6-8) Its distinctively fragrant white cup-shaped flowers make for a lovely sight to see, even better with its red-tipped stamens growing inside. It reaches heights of only 6 to 15 feet, thereby not taking up too much space in the yard.
Saucer magnolia. (Zones 5-9) This particular tree is native to France and boasts a variety of colors from pink to lilac to rose. It grows up to 25 feet and thrives well in moist soil and bright sunlight.
Star magnolia. (Zones 4-9) This Japanese-native magnolia tree blooms white, star-shaped flowers between late winter and early spring, later turning bronze in the autumn. It grows slowly, even maturing to heights of 15 to 20 feet.
Crepe Myrtle Trees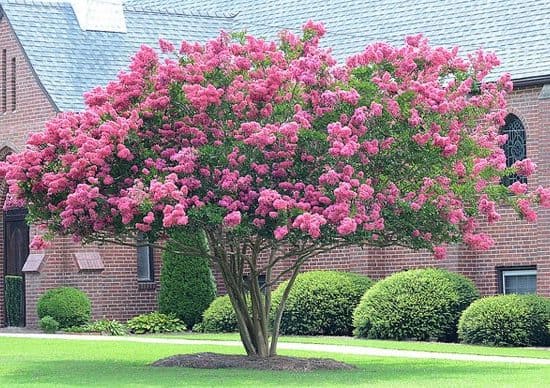 Beautiful in the summer and autumn months, crepe myrtle trees are a pleasure to the eye, as well as a pleasure to your backyard's presentation. They're especially good for growing in the South, considering that they need lots of sun to grow. Here are a few specific types of crepe myrtle trees:
Crepe myrtle. (Zones 7-9) Versatile to grow in both humidity and drought, the standard crepe myrtle comes in a variety of forms that can be planted, such as "Acoma" or "Centennial Spirit."
Japanese crepe myrtle. (Zones 6-10) With small white flowers and a deep, cinnamon-colored bark, the Japanese crepe myrtle is wide and upright, growing between 20 and 30 feet.
Queen's crepe myrtle. (Zones 10-11) This particular myrtle just bursts with color during the June and July months, in shades such as lavender, pink, and white. It has incredibly large leaves of up to a foot long, and the tree trunk has a total height of 30 feet.
Golden Rain Tree (Zones 6-9)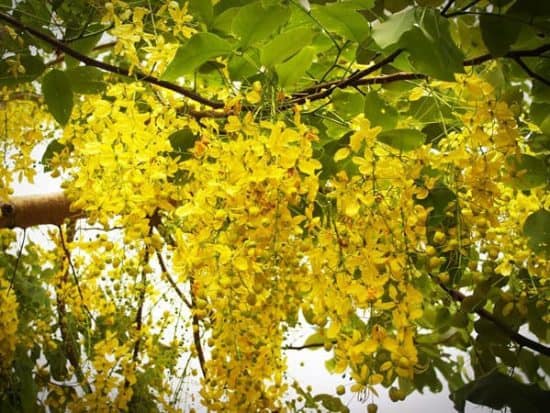 Although it's one of the more taller small trees at up to 40 feet high, the golden rain tree nevertheless is easy to grow in just about any range of soil while also producing beautiful pink and purple leaves in the spring, which then turn into yellow and fall down in the summer (hence "golden rain").
Washington Hawthorn (Zones 4-8)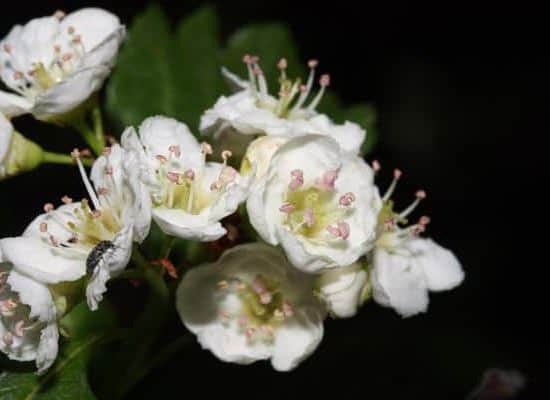 From late May to early June, the Washington hawthorn produces an abundance of soft white flowers that are protected by a thorn barrier, in order to preserve their beauty. It grows up to 30 feet tall.
Conclusion
You don't necessarily need to grow big, massive trees in your backyard to make it look beautiful. In fact, you can invest in a variety of small trees that will not only take up less space, but also contribute to the nice presentation of the garden.
Hope you enjod this article and if you have any other suggestions, please let me know in the comments.