"I hope you love the products I recommend! When you buy through links on sharycherry.com, I may earn an affiliate commission."
When it comes to having weeds on your lawn, you cannot help but feel frustrated that, no matter what you do, they keep growing back. From chickweed to ground ivy, there are varieties of them out there with different characteristics, tolerance and resistance levels, and so forth.
Really, it is certainly a pain to maintain your lovely flowers and plants if there are weeds that continue to grow, take over, and even kill them off. However, there are ways to get rid of them: by using weed killers (a type of herbicide), they can counteract the growth of the weeds while also destroying them.
That said, in this article, we are here to help you choose the best weed killer for lawns, in order to ensure that you will not have to be stressed about constantly having to fight against weeds (and sorely losing). We will break down the essence of herbicides before showing you a few of our favorites to use.
With that said and done, let us begin!
**Below, you'll find more detailed reviews but you can also click links above to see current prices and read customer's reviews on Amazon.
Weed Killers 101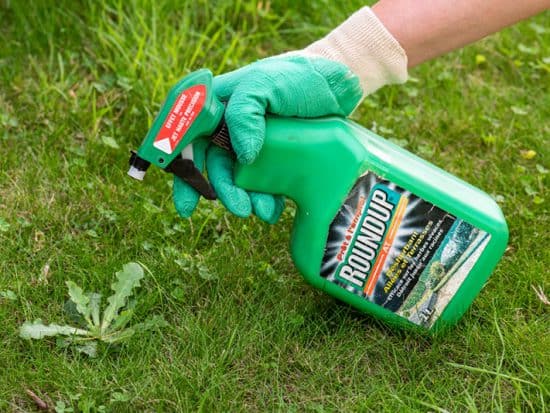 So just what exactly is a weed killer? At the most basic level, it refers to a type of herbicide that essentially gets rid of weeds to ensure that your lawn remains clean and free from weeds.
There are two, general types of weed killers, each of which have their own distinctive properties when it comes to fighting unwanted plant growth:
Selective herbicides:

This particular version of weed killers only acts to eliminate just the certain weeds at hand, while keeping the desired crop, plant, or flower intact, for the most part.

Non-selective herbicides:

Also known as "total weed killers," this type of herbicide, as the name suggests, works to wipe out not only weeds themselves, but also other plants, flowers, and crops in the targeted area.
What Components Are Weed Killers Made Of?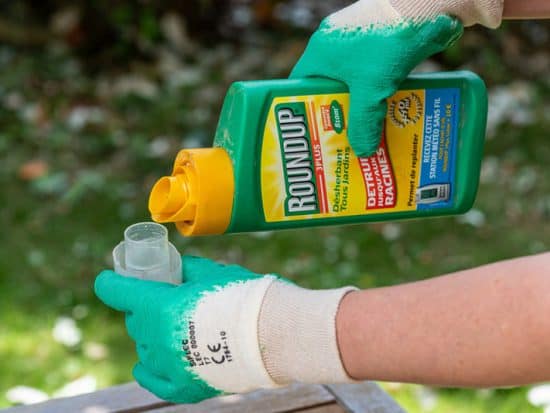 Whether they are made from synthetic or organic materials, weed killers nevertheless consist of a complex mixture of different chemicals to combat resilient weeds.
For instance, many synthetic weed killers are made from those which imitate plant hormones which hinder growth in weeds. Much of the compounds contained in these herbicides are that of inhibitors (e.g. ACCase inhibitors, EPSPS inhibitors, etc.).
On the other hand, organic weed killers consist of naturally constructed mixtures, many of which can come from everyday household objects; one commonly used object is vinegar, for its acidity level is high enough to target and kill certain weeds. Salt has also been known to help, but for the traditional value, why not just pick them?
How to Use Weed Killers
Just like with many aspects in life, the key to successfully getting rid of weeds is by using weed killers wisely and moderately (at least, depending on the situation). Essentially, it is a matter of reading the instructions on the weed killing label, gauging just how big the targeted area for implementation is, and how severe the weed problem is.
Therefore, using weed killers requires balance: by applying too little or that of a diluted version, it will have little effect on curbing weed growth and it might make it worse, for now the weeds may have developed a resistance to the herbicide at hand.
On the other hand, using too much can also be a major problem, for it can not only negatively affect the other plants, flowers, and crops in the area, but also not necessarily get rid of the weeds in the long run. That said, it is crucial to first test the weed killer out in moderation, before deciding whether or not it is necessary to increase or decrease the amount used for subsequent weed killing sessions.
How Do I Find the Best Weed Killer for My Garden?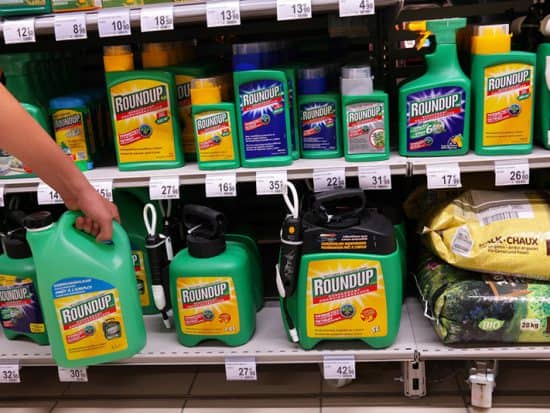 Besides the obvious part about finding one that saves the time and hassle of having to pluck every single weed out by hand, here are some other aspects to consider when looking for a good weed killer for cleaning up your beautiful lawn:
1. It accurately targets the weeds
Especially when it comes to selective herbicides, it is important that the weed killer itself does not harm other objects (e.g. flowers, plants, crops) in the process. The point is to only get rid of the weeds, not everything else in between.
2. It does not require watering
This will depend on the type of herbicide you choose, but having one that does not need water can save energy and water resources in order to combat troublesome weeds. It can be a great way to reduce waste as well.
3. It can be used economically
A good weed killer is one that can be used sparingly, i.e. only in cases which there is an evident weed growth that needs to be controlled.
In other words, gardeners do not need to worry about applying herbicide every time they garden, which saves time, effort, and even the environment from harmful, wasteful by-products.
4. It is safe for children and pets
Granted, this does not mean that herbicides are not harmful at all to others, but rather them being safe as soon as it is applied and dried after several hours. Weed killers should be harmless to young children and pets in the case that some of it is ingested, and from there know how to seek help from the substance.
Top 5 Best Weed Killer Reviews for Lawns
Compare-N-Save Concentrate GrassAnd Weed Killer
With forty one percent glyphosate concentrate, Compare-N-Save Concentrate GrassAnd Weed Killer packs a powerful punch when it comes to eliminating the toughest weeds from your lawn. Its 2.5-gallon size can treat up to a whopping 630,000 square feet of weeds and can be sure to deliver fast-acting results within a couple of days.
Pros
It is fast-acting, and when used can see results as soon as in two to four days, depending on the area size.

Compare-N-Save's hefty 2.5-gallon size

is large enough to use over the long term, for any occasion at any time of the year.
It is easy to use, simply by mixing it with water and applying it to the lawn to kill off the weeds.
Cons
It takes a while for this particular weed killer to take effect, with some taking up to a week and a half to fully kill off the weeds.
It is a generic brand, so it might require applying twice the amount of herbicide as other, non-generic brands.
Opinion
I bought
Compare-N-Save's grass and weed killer
and, although it did take a while for it to act on the weeds (about seven to ten days), it succeeded in killing off almost all of the weeds on my lawn. Some users have complained that the weeds came back afterward, but so far, none have for me.
Roundup Pro Weed Killer Concentrate
(Editor's Choice)

With a strong, 51 percent glyphosate concentrate, the Roundup Pro Weed Killer has been known to cut through some of the most resilient weeds out there, while also maintaining a dry condition after three hours to ensure that it is not dangerous for small children and animals, if ingested.
Pros
It is easy to mix with water: the standard is 2 ounces per gallon for the most effective results.
It is large at 2.5 gallons and at a reasonable price compared with that at home stores.
It dries quickly, within three hours, so as to avoid getting diluted from rain and safe for children and pets.
Cons
It takes a bit longer than usual to activate and see effects, perhaps in a few weeks.
Opinion
Considering that Roundup is one of the biggest weed-killing brands out there, I had high expectations when I purchased it. So far using
Roundup Pro Weed Killer Concentrate
, I would have to say that it does not disappoint: the weeds have been killed off within a week and since then have not come back.
Ortho GroundClear Vegetation Killer Concentrate
The Ortho GroundClear vegetation killer is considered a long-lasting weed killer, with a growth prevention of up to one year before it needs to be applied again. It is also diverse in that it can be used not only on lawns, but on cracks in driveways, pavements, and patios all around your home, in order to keep it weed-free.
Pros
The effects can be seen in as quickly as a few hours after applying the solution.
Ortho GroundClear does a good job of sterilizing the soil, which then prevents weeds from returning for one whole year.
It works on just about any surface you can imagine, from lawns to driveways to fences.
Cons
If there is heavy rain, it can wash away the solution and thereby cause weeds to grow back again.
It might not last an entire year, as advertised on the label, perhaps only for several months.
Opinion
Before purchasing the
Ortho GroundClear Vegetation Killer concentrate
, I was intrigued by its "one-year" promise of preventing weeds from growing back. I used it on my lawn and although it only worked for about five months (there was a large rainstorm beforehand, which had washed away a lot of the solution), it did a good job of keeping the weeds under control.
Remedy Ultra Herbicide Weed Control
By simply using a 1:4 ratio, Remedy Ultra's herbicide can be used to kill just about even the toughest weeds out there. It can be used even to kill larger pests out there, including mesquite and prickly pear cacti, and especially within a few days of applying it.
Pros
R

emedy Ultra's he

rbicide

can eliminate a variety of different weeds, from English ivy to mesquite to privet.
It packs a powerful punch with 60 percent triclopyr, a common chemical for fungicide.
It works especially on woody plants, aside from just weeds themselves.
Cons
On average, it takes about two weeks for this weed killer to kick in, which for some homeowners is too long of a time.
Opinion
I bought
Remedy Ultra Herbicide
, and I must say that it rivals that of Roundup! Even better, it kills off not just normal weeds, but also specialized types; I used it on some wild flowers and they were gone within a few days. For larger areas, however, it does help to be patient and wait two to three weeks for it to work.
Southern Ag Crossbow Specialty Herbicide
Highly concentrated, but also low volatile, Southern Ag Crossbow Specialty Herbicide has just the right balance for getting rid of those pesky weeds in a short amount of time. From blackberry bushes to poison ivy, this special weed killer can do away with many different invasive plants.
Pros
This product is especially good for killing off vines and other overgrown, leafy plants.
It is strong enough to target and kill off even to the root.

Southern Ag's herbicide

kills off weeds within a short period of time, around one to two applications at most.
Cons
It is best not to use during hot, dry weather, for the strong ester content in this herbicide can affect even harmless plants.
Opinion
I really enjoy the quick-acting feature of
Southern Ag Crossbow's herbicide
, as well as the fact that it kills just about any tough weed out there. However, it was definitely highly concentrated, and I ended up having to dilute the solution tremendously so as to make sure that it did not kill off my flowers.
Winner of the Roundup
Although all of these weed killers were really effective and close by comparison, the top weed killer would have to go to the Roundup Pro Weed Killer Concentrate. This distinctive brand is well-known for a reason, for it continues to kill and prevent weeds from growing back in the long term, all at a reasonable price.
What do you think? Feel free to share your thoughts and recommendations in the comments, or send this guide to a friend who needs help finding the best weed killer for lawn.