"I hope you love the products I recommend! When you buy through links on sharycherry.com, I may earn an affiliate commission."
When it comes to whacking away weeds from your otherwise lovely garden, you might not have much of an idea to get started with. In other words, there are so many different ways to get rid of weeds that you might feel a bit overwhelmed. From weeding tools to weed-killing chemical products (our article on it here), the options for doing so are endless.
Despite the variety of weed-removal products out there, why not consider choosing trimmer lines? These particular objects are distinctive in that they use a sort of monofilament line to slice through even the most difficult of weeds for you. Even within the trimmer line category, there is much room for the number of choices to decide from.
With that said, we are here to help! In this article, you will learn more on how to find the best trimmer line for you, as well as your garden, along with us providing you a few of our top-pick products to get you started. Soon enough, you will have a beautiful, weed-free garden to call your own.
Without further ado, let us get started!
**Below, you'll find more detailed reviews but you can also click links above to see current prices and read customer's reviews on Amazon.
Things to Consider Before Purchasing a Trimmer Line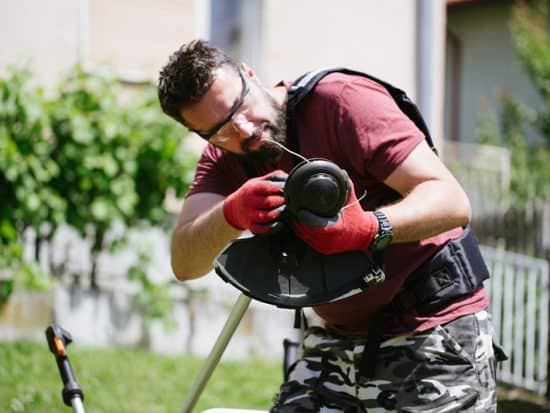 As we have previously mentioned, there are a variety of factors to consider when it comes to finding and purchasing a trimmer line that is the most applicable for you and your garden.
While there are a lot of things to look out for, do not be intimidated; by taking it one at a time, you will eventually come around to finding the best option for you. Here is a list of the essentials to consider for your ideal trimmer line:
Types Of Trimmer Line
You might be surprised to learn that there is not just one, but several different types of trimmer lines to choose from. Much of it is based on its cutting shape, which will depend on you and in what manner you would like your lawn to be cut, let alone the weeds. Here are the ones to look into:
1. Round trimmer line
As the name suggests, a round trimmer line is commonly used to trim grass and weeds located around the bends and edges of the garden, thereby giving you a cleaner, smoother, and less-awkward trim in those areas.
More specifically, a round trimmer line is a simple, basic tool that is good for beginners to use, as well as is light and durable, so that it can last a decent amount of time without breaking. It is best to use for residential, occasional purposes, so it might not stand up to heavier trimming projects.
2. Multi-sided trimmer line
Best considered for medium-sized projects, the multi-sided trimmer line is heftier than the round trimmer line, in that it can take on bigger yards, along with bigger weeds. They come in different shapes, including geometrical ones such as stars, squares, and hexagons; it will depend on you on which one to get.
In addition, a multi-sided trimmer line is quick and efficient, popularly used in commercial works, so that you can get work done in no time. The downside, however, is that it can break easily when it comes into contact with rocks or concrete, thereby lowering its durability.
3. Serrated trimmer line
Just like with a knife, a serrated trimmer line has jagged edges running along it, thereby making it an especially sharp object to use for your garden. Its strong cutting features allow you to slice through even the toughest of weeds, thereby giving your place a nice, smooth finish.
The serrated trimmer line is useful for commercial purposes, so it can deal with a heavy load of weeds and grass to tend to.
4. Twisted trimmer line
Just like with the multi-sided trimmer line and the serrated trimmer line, the twisted trimmer line can be used for commercial projects, for their design also works to slice through the roughest and toughest of weeds.
Its twisted design features are compatible with slicing up your grass and weeds into a smooth shape, all the while keeping noise levels down and reducing vibration. It is also pretty durable, especially if you were to strike it on hard surfaces such as concrete or rocks.
Diameter of the Line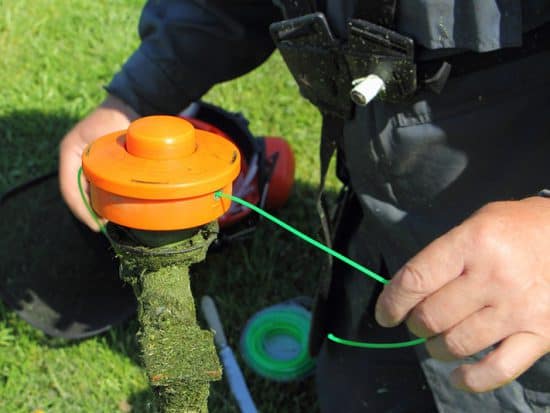 Besides different shapes for different types of trimmer lines, you will also need to factor in just how thick you want your line to be.
As a rule of thumb, a thinner, lighter line will work the best on light weeds while thicker lines will do the trick for heavier ones. Here is more information regarding all of that:
Light work.

Ranging between 0.065 to 0.080 inches, lighter lines work the best for maintaining small backyards and front lawns.

Medium work.

With sizes of 0.085 to 0.105 inches, medium lines are for heavier weeds in slightly larger backyards and front lawns, and they can be used for some commercial trimming.

Heavy work.

Consisting of a line diameter of more than 0.110 inches, heavy-work lines are ideal for massive landscapes, including large estates, golf courses, and so forth.
Top 5 Best Trimmer Lines Reviews for Your Garden
Oregon 22-895 Gatorline Heavy-DutyTrimmer Line
(Editor's Choice)

With a hefty 0.095-inch diameter, Oregon's Gatorline heavy-duty trimmer line makes for a long-lasting and durable trimmer line to use on just about any garden out there, from the small, residential ones to the large, landscaping areas.
Containing over 685 feet of line, this product can virtually wrap around your entire garden, thereby making it a good one to last for a while.
Pros
Has a thick, 0.095-inch diameter to slice through even the toughest of weeds in your garden.
Contains over 685 feet of line for multiple uses, thereby lasting a long while over time.
Its outer layer prevents welding from happening.
Cons
Line tends to curl when in use, so that it does not make the most efficient cuts out there.
Opinion
I found Oregon's Gatorline heavy-duty trimmer line to be heavy-duty, as appropriately named. My garden had been having problems with overgrowing weeds, and this product was able to clear that all up.
I suppose the only downside is that the line tends to curl when in use, so it can be rather difficult to keep it straight when cutting.
Cyclone .065-Inch-by-300-Foot Spool Commercial Trimmer Line
Ideal for medium trims, Cyclone's 0.065-inch commercial trimmer line is patented with a six-blade feature to keep your options open when it comes to how you would like your garden's grass and weeds to be sliced up.
It also has a distinctive copolymer formulation to keep the grass short and weeds gone over long periods of time, so that you do not need to worry about them.
Pros
Has a 0.065-inch diameter that is best for medium-sized trimming projects.
Contains a six-blade patented feature for different blade shapes for you to choose from.
Has a copolymer formulation that can keep your garden well-maintained and weed-free over a long time.
Cons
Line tends to break quite easily, especially in the middle of trimming.
Opinion
Cyclone's 0.065-inch trimmer line really got me going with its unique, six-blade feature as means of spicing up the normal cutting shapes that I am accustomed to, which are usually rounded or serrated. The line diameter is just right for the size of my garden, which happens to be around what is considered "medium sized."
My only complaint is that the line breaks rather often whenever I use it, so it has set me back a few times in the past.
Husqvarna 639005102 Titanium Force String Trimmer Line
At 0.095 inches and over 140 feet, Husqvarna's titanium force string trimmer line offers sharpness and depth, as means of cutting into the toughest of weeds in a shorter amount of time so that you have more time to sit back and enjoy the beauty of your well-maintained garden.
It has fast acceleration and energy-saving properties to reduce fuel consumption, thereby keeping the environment clean and eco-friendly.
Pros
Compatible with many trimmer heads, so that it is easily adjustable and versatile.
Has fast acceleration, along with energy-saving features to decrease the amount of fuel used for a more environmentally-friendly project.
Contains up to 140 feet of line.
Cons
Its length is not as long as other brands, thereby likely to be used up sooner than later.
Opinion
Overall, Husqvarna's titanium force strong trimmer line is a solid line to use for any garden out there, but especially so for big ones: I have an estate that I tend to every once in a while, and so this product does a good job of cutting down time to complete the project.
I do wish, however, that it contained more line than merely 140 feet of it, since I ran out once in the middle of cutting.
DEWALT DWO1DT802 String Trimmer Line
Flexible and resistant, Dewalt's string trimmer line has an aerodynamic design that makes it more of a sturdier line to use, all the while being more bendable and easier to mold for the garden's trimming purposes.
It is up to 225 feet long, as well as 0.080 inches in diameter, which makes for it a decent trimmer line for performing both medium and heavy work.
Pros
Is distinctive for its aerodynamic design.
Is both flexible and sturdier than some other brands out there.
Able to perform both medium and heavy work in the garden.
Cons
Line is thinner than expected, and it is susceptible to breaking.
Opinion
I found Dewalt's string trimmer line to be super light- that said, I was able to handle it with no problem at all. Plus, it did a good job of slicing up some of my weeds in the garden, considering that I had a medium-to-severe case of them beforehand. Having flexible and sturdy properties are a plus as well.
My own issue with this line is that it can quite thin, and it actually broke once when I was tending to my garden, which was an unfortunate case.
Arnold .065-Inch Maxi-Edge Commercial Trimmer Line
With a 0.065-inch line diameter, Arnold's maxi-edge commercial trimmer line is just the right width for slicing through residential plots of land, as well as for the occasional use, especially if you already have only a mild case of weeds in your garden.
Besides having a length of up to 220 feet, it also comes with eleven refills in case you run out, which is plenty to keep you satisfied over a long period of time.
Pros
Its 0.065-inch line diameter is ideal for recreational, occasional use in the garden.
Contains up to eleven refills to keep you set for a long time.
Winds very easily, so that you can get to cutting in no time.
Cons
Not very long-lasting, even when all of the 220 feet of line has been used up.
Opinion
Arnold's maxi-edge commercial trimmer line is a decent one to consider investing in: my garden does not usually have a significant problem with overgrown weeds, so having this 0.065-inch product worked just right for the situation at hand. The refills were a lovely touch, and it wound up easily.
However, I found myself having to keep using the lines over and over, since they just were not as long-lasting as I had anticipated.
Winner of the Roundup
Overall, the winner of this roundup goes to Oregon 22-895 Gatorline Heavy-Duty Trimmer Line. By far, it had the thickest line diameter at 0.095 inches, which works perfectly for thick, stubborn weeds out there, along with its 685 feet of line for using over a longer period of time. It is weld-resistant and all in all, it makes for a solid, consistent trimmed garden that you will find yourself enjoying in the time to come.
What about you? Have you used any of these trimmer lines? Do you have any experience you'd like to share? Tell us what you think or ask me questions by commenting below. Share this article if you found it useful.
Happy gardening!