"I hope you love the products I recommend! When you buy through links on sharycherry.com, I may earn an affiliate commission."
Perhaps during the day time, you are hard at work, tending to your garden with its luscious and colorful flowers and plants teeming everywhere. However, when night falls, it can fall a bit flat, especially since such plants and flowers become obscured by the darkness in your front-yard.
Especially if you often like to entertain guests in the evening outside on your backyard, then it might be a good idea to consider investing in solar spot lights. Although some do require some sunlight in order to charge and otherwise operate, such lights nevertheless store up energy that can be used even when it is dark, thereby serving a functional purpose for your evening out.
With that being said, how do you go about finding a good solar spot light? We are here to help you out! Read on in this article to learn more about how to find the best solar spot lights for your garden, as well as receive our top suggestions to get you well on your way for installing and enjoying what it has to offer. Soon enough, you will have a lovely, illuminated garden to call your own.
Without further ado, let us get right down to it!
**Below, you'll find more detailed reviews but you can also click links above to see current prices and read customer's reviews on Amazon.
Things to Consider Before Purchasing Solar Spot Lights
When it comes to choosing the ideal solar spot lights for your garden, you will first need to do some research into which ones will work the best for you. Granted, it can be a long, even daunting process, but we guarantee you that it will be worth all of the time and effort at the end of the day.
Therefore, we have a few tips and tricks for you to figure out what you can look for in a solar spot light:
Type of Solar Spot Light
Believe it or not, there are several different sorts of solar spot lights out there, all of which operate and serve difference functions depending on your garden and lifestyle. By figuring out what you want, let alone need, it can help you determine the specific type of solar spot light for you.
Here are the top three types of solar spot lights for you to consider:
1. Accent Solar Lights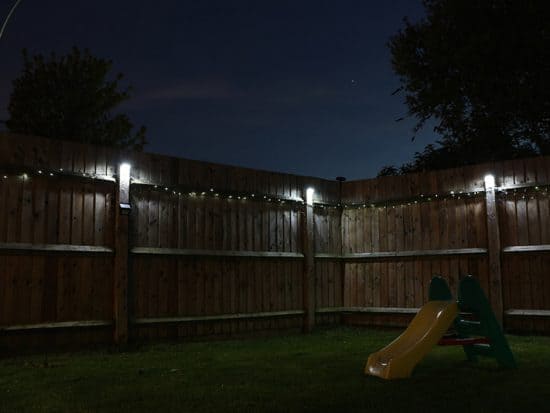 Decorative and pretty, this particular type of solar light is meant more so for giving off an atmospheric vibe to your garden, rather than function as something practical. If anything, they are used to highlight certain plants and flowers out there, e.g. in flower beds or behind the patio.
Such lights can also illuminate potential safety hazards, such as small rocks or shrubs which might otherwise get in the way of enjoying the night out. They tend to be dimly lit, so that they conserve energy and can last longer compared with other solar lights.
2. Path Solar Lights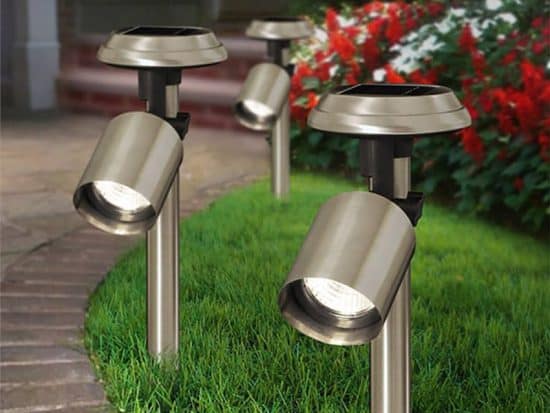 Known for its practical function, path solar lights are used to create a lit pathway for guidance, especially if it gets too dark at night. Whether you install them alongside the driveway for cars to pull into or up your front porch, they can be life-savers for the sake of your safety in the evening.
In terms of look and appearance, path solar lights come in a variety of shapes, including stakes, hooks, and mounts, so that they can be installed in just about any way possible.
3. Task Solar Lights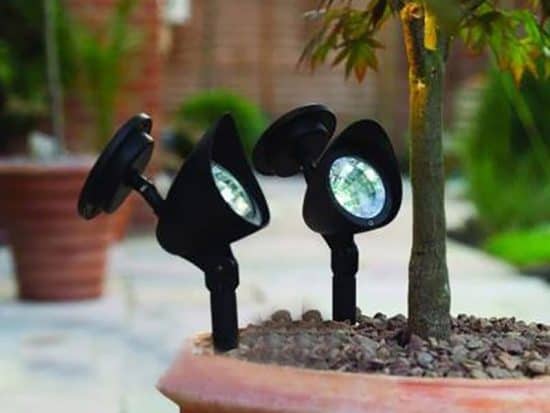 Considered the brightest solar light of the bunch, task solar lights are meant to shine intense light on items such as plants or entries, as means of adding both a dramatic effect to the landscape and a guidance to keep you safe at night.
Installing task solar lights can be a bit complex, especially since it requires full sunlight during the day as means of working its best when turned on at night. Nonetheless, they make for a worthy investment, should you need strong light shined in your garden.
Requires Sunlight or Not?
Since most solar lights power on battery life, it is a matter of knowing whether they need complete sunlight in order to charge or instead partial sun or low-lit areas.
While full sunlight is ideal, sometimes it is not the case depending on where you live. Maybe it is currently winter where you live and so it is constantly grey and overcast, thereby having little to no sun during the day.
Or perhaps your home is behind a mountain, so part of the day the mountain blocks the sunlight from getting in. That is why it is important to take into consideration your situation and see whether a solar light that relies on full or little sunlight will be more convenient for you.
Type of Lightbulb
While not as expansive in detail as the types of solar lights out there, it is still important to know which type of lightbulb is not only compatible with, but also the most efficient with the product itself.
Basically, it comes down to two types: LED lights and amber LED lights. While the latter is a subset of the former, LED lights in general provide the brightest and most cost-efficient lights for your home.
Operating Time
Essentially, this point refers to how long your solar lights can last without the need to recharge. Some solar lights are self-sufficient, able to last all-year round and recharging to store up energy for the long, winter months while others can last for a couple of days before needing to recharge.
Again, it will depend on your environment, on whether it gets enough sunlight or not during certain parts of the year, to see which option will work the best for you.
Style and Extra Features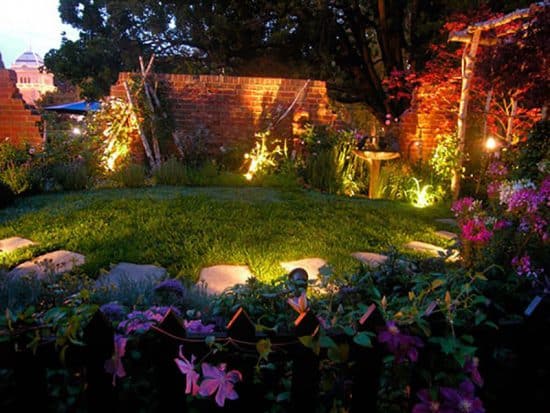 If you have a good eye for landscaping and design, then you might want to consider spicing up your solar lights to complement the look of your garden. From figurine lights to lanterns, there is always a type of solar light to add some character to the backyard.
In addition, you might want to look into extra features and accessories, as means of making it more convenient and pleasurable for your gardening experience. Aspects such as a timer or on-off switch can be great for conserving energy when light is not needed, along with colored lenses to give a more interesting atmosphere to your backyard.
Some can even be mounted against a wall, on a tree, or even your house for some extra flair and pizzazz to the whole place.
Top 5 Best Solar Spot Lights Reviews
URPOWER 2-in-1 Waterproof 4 LED Solar Spotlight
Easy to install and waterproof, URPOWER 2-in-1 Waterproof 4 LED Solar Spotlight is at once rechargeable and adjustable, able to withstand any weather out there and remain long-lasting and durable all-year round.
Its light can be adjusted to fit and shine upon the precise location of your garden, and it is able to be stuck into the ground or mounted on the wall in a 2-in-1 manner.
Pros
Is waterproof for weather-resistant technology.
Light can be adjusted to shine on an exact location.
Has a 2-in-1 feature for being planted into the ground or wall-mounted.
Cons
Light does not last very long, a couple of hours at most.
Opinion
I found Urpower's waterproof solar spot light to be quite impressive, able to be planted into the ground or mounted to a wall, which makes it versatile to work with.
Although the lights did not last very long, they nevertheless shone quite brightly when they did work.
Magictec 2-in-1 Waterproof 4 LED Solar Spotlight
(Editor's Choice)

Able to be adjusted up to 180 degrees, Magictec's solar spot light can capture sunlight at any angle through this distinctive feature. In addition, it is powered by a rechargeable lithium-ion battery, which can function at over ten hours per charge.
As a result, it makes for a long-lasting light over the course of the evening, perhaps even into the night.
Pros
Adjustable to a maximum of 180 degrees to better capture sunlight at any angle.
Powered by rechargeable lithium-ion battery for long-lasting battery life.
Can operate up to ten hours per charge.
Cons
Some of the lights might stop working sooner before the others.
Opinion
Overall, Magictec's solar spot light were useful in that they were self-sufficient in capturing their own sunlight with the 180-degree feature. I liked how it was able to stay lit: I had it on for over six hours, and it still kept staying lit!
Granted, one of the lights died on me after a couple of uses, but the others remain strong and bright.
Robust Natural White Solar Spotlights
Consisting of a natural-white glow and both waterproof and heatproof features, Robust's solar spot lights are a solid choice to consider for your next gardening project.
They are long-lasting, able to operate from dusk until dawn and even during the long, dark winter months without any problem. Aside from all of that, they are power-adjustable with low, medium, and high options, along with an extension cable should you need it as backup.
Pros
Have a natural-white glow to it, for a soft and pleasant lighting experience.
Operate from dusk until dawn and also during winter months.
Contain an extension cable for backup plugging.
Cons
High lighting option burns out quickly within a few hours of use.
Opinion
Robust's solar spot light emits a pleasant, white glow, of which I enjoy after I set it up and began using it. I also liked the fact that there were power-adjusting options, from low to high light depending on the occasion.
Although the high option died on me after four hours, it has not been a problem to recharge it back to normal- next time, I will just stick with medium at most.
Amir Solar Spotlight
Amir's solar spot light is super easy to install, requiring no tools to either plant or wall-mount it for a quick and simple process. Soon enough, you can get right down to using it!
Its Super Bright 200 Lumens Spotlight feature offers a bright output, paired with a high-low lighting mode and a waterproof LED lightbulb for longer use. After recharging, it can stay on for eight to ten hours.
Pros
Easy to install, requiring no equipment to do so.
Has a Super Bright 200 Lumens Spotlight feature for bright light.
Contains a high-low light mode and waterproof LED lightbulbs.
Cons
Does not work well with overcast skies, if at all.
Opinion
Amir's solar spot light
impressed me with its easy-to-install process, as I just mounted it on my wall and began using it right away. Its high-low lighting mode and waterproof LED lightbulb were great pluses; although it did not work with overcast skies, it did the trick for sunny days.
URPOWER 2-in-1 Solar Powered 4 LED Adjustable Spotlight
With multicolor features such as red, green, blue, and yellow, URPOWER 2-in-1 Solar Powered 4 LED Adjustable Spotlight provides special color tinting to give off a unique atmosphere to your garden.
It is fully adjustable to capture sunlight at any angle, as well as has an auto-switch that turns on at night and turns off at dawn, thereby saving you energy.
Pros
Comes in multiple colors (red, green, blue, yellow).
Adjustable to capture sunlight at any angle.
Has an auto-switch to turn on and off at night and dawn, respectively.
Cons
Lights can malfunction due to the color schemes.
Opinion
URPOWER 2-in-1 Solar Powered 4 LED Adjustable Spotlight
certainly had me intrigued with its colorful lighting scheme; it made my garden look incredible and unique! The auto-switch was a plus, too, and even though the red light pooped out on me after several uses, it has been a decent experience.
Winner of the Roundup
Clean-cut and long-lasting, Magictec 2-in-1 Waterproof 4 LED Solar Spotlight is the clear winner of this roundup. Not only can it be adjusted to capture sunlight at any position of the day, but also it last up to a hefty ten hours sans recharge.
That said, it is a worthwhile investment, for it can keep your garden lit up into the wee hours of the morning.
Have you found this breakdown helpful? If so, please let me know in the comments. Be sure to share your own recommendations!