"I hope you love the products I recommend! When you buy through links on sharycherry.com, I may earn an affiliate commission."
When it comes to making sure that your front-yard garden is nice and in perfect condition, it is necessary to give it some tender, love, and care from time to time. In other words, a combination of good soil, sunshine, and water can go a long way in terms of making your garden lovely and flourishing over time.
That said, when it especially comes to watering your garden, you have a few options: a water hose or a water sprinkler. While the former choice is not a bad one in terms of personalizing it for use, the latter can be more practical when it comes to maintaining a regular schedule and possibly even saving water in the long run. That is why lawn sprinklers are a popular choice nowadays for such reasons.
Now, you might be wondering just what is considered a good lawn sprinkler? You might not know at all, but that is not a problem: we are here to help! Learn more in this article on how to find the best lawn sprinkler, as well as receive some of our top picks to get you started. Soon enough, you will be watering your lawn effectively and efficiently in no time.
Without further ado, let's get started!
**Below, you'll find more detailed reviews but you can also click links above to see current prices and read customer's reviews on Amazon.
Why Buy a Lawn Sprinkler?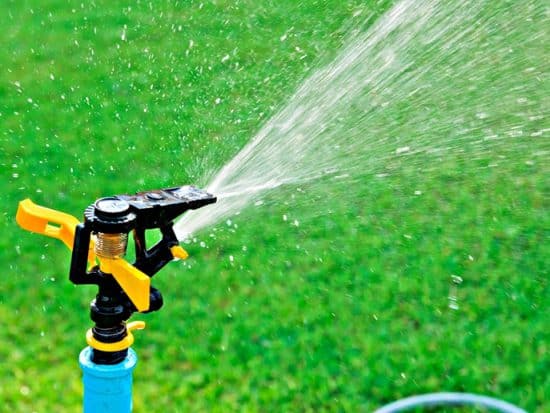 First things first, you might be wondering just what is the point of purchasing a lawn sprinkler, especially if using a garden hose can suffice? In fact, there are a couple of reasons to consider buying one, and here, we highlight them:
Lawn Sprinklers Save You Time
Especially when it comes to using a garden hose, you probably have found it a hassle to yank the long tube out from its wagon and drag it all over the yard. Not only that, but also it has the tendency to get easily tangled and difficult to put back in afterwards. As a result, you end up wasting time.
Therefore, lawn sprinklers get rid of all that hassle by being built into the ground; all it takes is the push of a button and voilà, your garden is watered! Even more so, lawn sprinklers cover more land in a quicker time than garden hoses, which require you to go around from spot to spot, sometimes even missing patches that sprinklers can easily take care of.
Lawn Sprinklers Save Water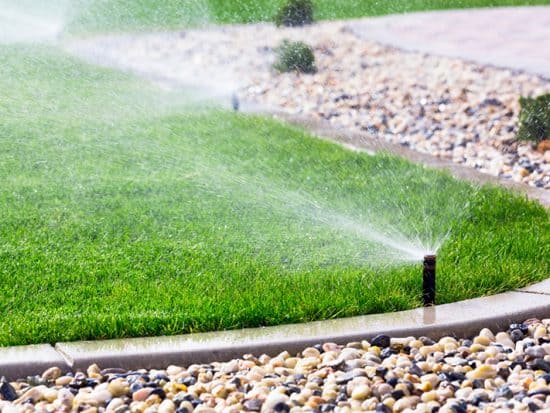 Believe it or not, lawn sprinklers use up less water than garden hoses: whereas with the latter, you need to keep it on the whole time you water the lawn, but with the built-in sprinkler, it mechanically controls how much water is used to create a much more efficient watering experience, as well as save up on the water bill each month!
Lawn Sprinklers Can Be Convenient
Besides saving you water, time, and even money, lawn sprinklers can be super useful when it comes to other activities out there.
For instance, some brands have a timing option, so that they will go off when scheduled ahead of time: this is especially helpful if you are on vacation and away from your garden, so that you do not need to hire someone to come in to water manually for you.
Other than that, even if you are not away from your garden having a timing option makes life a whole lot easier, so that you do not need to constantly set up and adjust for the watering to take effect. By doing it once, you are pretty much set for life!
Things to Consider When Buying a Lawn Sprinkler
Now that you have learned a bit more about the conveniences of having a lawn sprinkler, it is time to consider a good one to purchase. Here, we have a few different types and features that you can look into when shopping for it:
Portable Sprinklers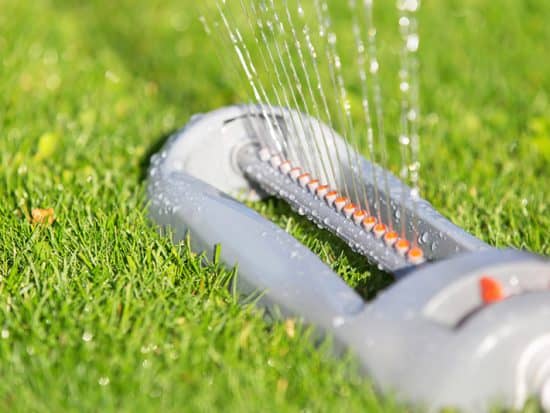 As the name suggests, a portable sprinkler is one that does not require any intricate set-up to make it work: all you need to do is prop it on the lawn and turn it on- you will immediately have a hydrated piece of land.
What makes portable sprinklers useful is the fact that they can be moved around to cover almost every square inch of land in your backyard.
They also come with interesting features, such as varying application rates (i.e. how small or big the water comes out) and application patterns (i.e. how it is applied to the lawn).
The downsides to having a portable sprinkler, however, are that it might not be convenient for large lawns, since you will still have to move it around constantly in order to cover every single inch of space. Even then, you might not be able to cover everything, since there can be an uneven distribution in place.
Permanent Sprinklers
On the flip side, permanent sprinklers require installation, or in other words, need to be built into the ground and wired to different sensors and features in order to get it well under way.
Permanent sprinklers benefit from having more options when it comes to watering, including sensors for soil moisture, rain, and so forth. Plus, you have more control of water distribution all over your lawn, especially for application rates and patterns.
In a way, permanent sprinklers are more personalized for the user at hand, which can be an advantage.
The only problem is that the initial installation process can be very time-consuming, as well as possibly costlier than that of portable sprinklers.
Sometimes, it is better to install it even before you have the lawn in the first place, so that you do not have to dig up a small hole in the middle of the garden for it. However, if that is not a problem for you, then it works as well.
Timer
This add-on gadget does wonders for turning on-turning off water once it senses that the lawn is well-watered, as well as detecting whether it is dry and requires a bit of hydration to perk itself back up.
It is worth the investment, for it can save you the hassle of manually managing it, and it can serve you well even when you are away from the house.
Top 5 Best Lawn Sprinklers Reviews
Nelson 1865 Raintrain Traveling Sprinkler
(Editor's Choice)

Chip-resistant and with a powder-coated paint, Nelson 1865 Raintrain Traveling Sprinkler offers not only a powerful, but also durable surface that can last you for a long time.
Even further, it is a moving sprinkler! Able to travel up to 200 feet, as well as cover 13,500 square feet, Nelson's traveling sprinkler is revolutionizing the watering-lawn industry.
Pros
Is sturdy with a chip-resistant and powder-coated paint surface.
Travels up to 200 feet and can cover 13,500 square feet of lawn.
Has adjustable spray arms to cover anywhere from 15 to 55 feet in diameter.
Cons
Can be a bit too light to stay on track- can fall off sometimes.
Opinion
Nelson's traveling sprinkler is unique in design and concept: I found it to be quite useful for watering my large backyard. The fact that it can travel along a path is so ingenious and so far has been a great help in hydrating my land.
Granted, it falls off the track sometimes, but not so much.
Melnor XT Turbo Oscillating Sprinkler
Containing 18 precision nozzles and up to 3800 square foot coverage, Melnor's oscillating sprinkler offers both an expansive and accurate watering experience for your garden's pleasure.
By merely sliding the product, you can easily adjust the power and frequently of the item, so that you can provide even watering for your lawn. Its clog-resistant feature is a huge plus, too, especially if dirt tends to get in the way of efficient watering.
Pros
Has 18 precision nozzles for accurate spraying power and force.
Easily adjustable by sliding to-and-from along the product.
Is clog-resistant, so as to keep your sprinkler clean and in mint condition.
Cons
Plastic part breaks easily, so that the oscillating feature stops working after a few months.
Opinion
Melnor's oscillating sprinkler is light, but packs a huge punch in terms of features, from its 18 precision nozzles to clog-resistant exterior.
I found it easy to adjust, too, but also rather fragile: within a couple of months, the oscillating feature ceased to function.
Orbit 58257N Metal 3-Arm Sprinkler
Orbit's three-arm sprinkler appears intimidating, but in actuality is extremely useful for covering up to 24 feet in diameter outside on your lawn.
Its twirling feature certainly does the trick to do so, and it is made from heavy-duty metal to ensure that it is durable and able to last a long time to keep your garden happy and healthy.
Pros
Has a three-arm design for a more extensive watering coverage of your lawn.
Is ideal for medium-sized gardens, able to water up to 24 feet in diameter.
Made from heavy-duty metal for a longer-lasting object.
Cons
Sprinkler is not very sturdy, for it tends to fall from the water pressure when in use.
Opinion
I found Orbit's three-arm sprinkler to be a strange-looking contraption, but all the same a useful one for smaller patches in my lawn.
Its twirling mechanism does cover a good amount of land efficiently, but tends to break rather easily, which I have found to be the case after a month or two.
Gardena ZoomMaxx Oscillating Sprinkler on Weighted Sled Base
Especially if you are looking for a lawn sprinkler with excellent oscillating power, then Gardena's ZoomMaxx Oscillating Sprinkler might be a good choice for you.
It is compact for watering even the smallest areas and it has an area coverage of 76 to 2300 square feet. Finally, it contains 16 flexible rubber nozzles for even water distribution, so that everywhere gets the same amount of water.
Pros
Compact for watering even for the smallest areas.
Has an area coverage between 76 and 2300 square feet.
Contains 16 flexible rubber nozzles for even water distribution.
Cons
Oscillator might not be as consistent in watering as you might think.
Opinion
I found Gardena's ZoomMaxx Oscillating Sprinkler to be quite good at covering my large garden. Not only that, but also it is super-compact for watering small areas, too.
The 16 rubber nozzles are a plus, and although the oscillator could use some work on, nevertheless it remains a decent product.
Gilmour Heavy-Duty Adjustable Circular Sprinkler
Gilmour Heavy-Duty Adjustable Circular Sprinkler demonstrates its durability through its brass and zinc material, thereby ensuring a long-lasting product.
It also offers partial and full-circle coverages, along with an easily-adjustable, customized spray option, whether you would like a gentle, mist condition or a powerful, heavy jet one.
Pros
Is long-lasting with its brass and zinc materials.
Offers partial and full-circle coverages, useful for a part of or an entire lawn, respectively.
Has an easy-to-adjust, customized spray feature for both light and heavy watering experiences.
Cons
Can be quite heavy to move around, since it is heavy-duty metal.
Opinion
After purchasing and receiving Gilmour's circular sprinkler, I was very impressed by the heavy-duty nature of it: that certainly ensures a long-lasting sprinkler for the lawn!
What impressed me the most, however, was the customized spray features depending on whether the lawn needed a light misting or a heavy watering for both wet and dry months, respectively. Admittedly, it is very heavy to move from place to place, but otherwise, it does the trick.
Winner of the Roundup
Overall, the best lawn sprinkler in this roundup goes to Nelson 1865 Raintrain Traveling Sprinkler. Not only does it provide the largest water coverage for a lawn at 13,500 square feet, but also a sturdy surface and adjustable arms for getting every inch of space possible.
Its traveling mechanism is ingenious, not to forget revolutionary that can change the future of lawn sprinklers.
Did this help you make your decision? Comment below and share these tips with someone you know!
Happy gardening!