"I hope you love the products I recommend! When you buy through links on sharycherry.com, I may earn an affiliate commission."
Are you a carpenter or otherwise woodworker who enjoys producing objects made from wood? Or maybe you need to work with wood on a daily basis, often using a log splitter to cut them down? If you answered "yes" to either or both of these questions, then perhaps you might be interested in taking your woodwork to a whole new level.
Granted, woodwork consists of a lot of sawing, whittling, and fine-tuning of sometimes very large wood blocks, all of which can be a hefty project to take on. That said, having a wood jointer can be very useful, since it is used to improve the look of the wood, enhance its durability, and forms a flat surface that can make the piece of lumber you are working with more manageable in the long run.
With that said, just how do you go about finding the right jointer for you? Although it might be a complicated process, it is by no means a difficult feat. In fact, we are here to help! Read on to learn more about how you can find the best jointer for woodworking, as well as offer you some good products to get you started. In the end, we guarantee that you will come out of it with a better idea or how to go about it.
That said, let's get started!
**Below, you'll find our more detailed reviews, but you can also click the links above to see current prices or read customer reviews on Amazon.
Things to Look for When Buying the Best Wood Jointer
Just like with any heavy piece of machinery out there, looking for specific features in your next wood jointer will be very important to the success of your woodwork experience. It is simply not just a matter of looking at the most reputable brand, but rather at the distinctive entities that comprise of each jointer you see.
With that said, here are a few aspects to consider before purchasing one:
Type of Blade
Of course, woodwork involves a lot of wood cutting, so having solid, sharp blades to slice through even the thickest of lumber will be an essential component of the jointer.At the same time, however, there are different types of blades for different sorts of cuts, so here are two kinds to consider when making your purchase:
1. Straight knives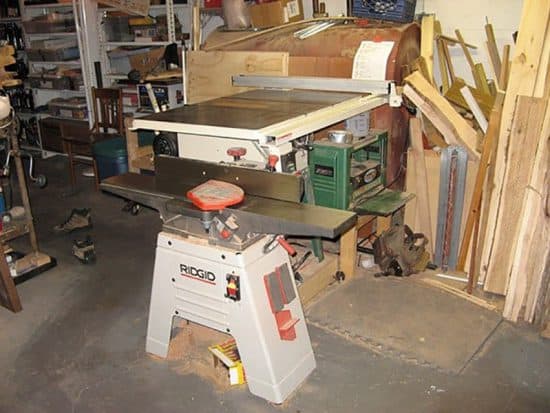 As the name suggests, straight knives consist of long, straight blades that slice directly through wood in a single motion, particularly on the surface of the block.
They are affordable to get, but at the same time has some disadvantages in that it needs to be regularly sharpened, as well as leaves wood shavings that can clog the machinery and subsequently create gouges in their blades, which then makes the cut jagged and uneven.
2. Helical head blades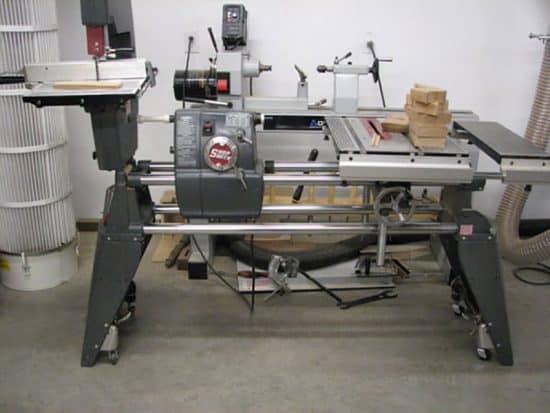 On the other hand, helical head blades cut through wood in a spiraled motion, are quieter to operate, and create less waste product that can otherwise clog the machinery.
Even more so, they do not need to be sharpened, but rather just replaced on its side when it becomes dull. While definitely more convenient than straight knives, they tend to be a bit on the pricey side.
Amount of Power and Motor
Depending on what kind of projects you tend to do, that will determine just how powerful you need your wood jointer to be, in order to make things convenient for yourself. Some models will have up to 120 volts of motor power, while others can have 220 volts, even 440 volts for industrial purposes. That said, you will have to decide just what you want for your woodwork.
Planer Compatibility (optional)
Although planers and jointers are similar to each other, they can still be used together to enhance the quality of your woodwork. Therefore, finding a jointer that also contains a planer can really make a difference, so it would not hurt to ask around for one.
Closed Stand Jointers (optional)
With a completely-enclosed base, closed stand jointers are a specific type of jointer that you could consider getting, especially if you tend to use it often and over long periods of time. The covered base protects the motor and the inside of the machinery from waste products that can otherwise clog it, thereby keeping it in clean, pristine shape.
Additionally, other jointers come with bases that vary in terms of stability, vibration control, and other safety features to keep you, as well as itself, safe from harm.
Size
Like with other machinery you use, selecting the size that you would like your jointer to be can make a difference in terms of time and efficiency. In essence, jointers come in either 6 inches or 8 inches.
As a rule of thumb, 8-inch jointers can put up with more woodwork than 6-inch ones, and are a better long-term investment. However, this is not to say that 6-inch jointers are not good, for it really depends on the size of the lumber you tend to work with.
Top 5 Best Wood Jointers Reviews
Cutech 40160H-CT 6" Bench Top Spiral Cutterhead Jointer
Consisting of a powerful 10-amp, 120-volt motor, Cutech's spiral jointer makes for a sturdy, efficient use when slicing through even the thickest cut of wood at home. Its helical cutterhead will make all sorts of cuts easy and quick, all the while avoiding any debris that can otherwise clog the system.
Pros
Contains a 10-amp and 120-volt motor, which is powerful for any home projects you got going on.
Has helical head blades for smooth, clog-free slices and do not require a lot of sharpening often.
Has level adjustable beds to keep the woodwork surface even and easy to manage.
Cons
Fence of the jointer is not very sturdy, which does not stay stable to the table when operating.
Opinion
Cutech's spiral cutterhead jointer is quite powerful, for I was able to slice through some of the thickest wood that I had ever worked with until then. I appreciate the fact that it comes with helical head blades, rather than straight blades, for a smoother, clog-free cut.
Only wish is that the fence could be sturdier, since I had trouble keep it still when using it.
DEWALT DW682K 6.5 Amp Plate Jointer
Dewalt's 6.5-amp jointer comes with a whopping 10,000 rpm motor, along with a dual rack and pinion fence for stability and easy-to-use properties. That said, it can make flush cuts even at zero degrees. Its heavy-duty aluminum shoe also helps keep the jointer clamped for stationary work, and so you can be rest assured that you will have a smooth and safe woodworking experience.

Pros
Comes with 6.5 amps and a 10,000 rpm motor for a super powerful and convenient woodcutting experience.
Has a dual rack and pinion fence for stability when being used, and they can make cuts even at zero degrees.
Contains a heavy-duty aluminum shoe to clamp the jointer down, so that the it does not move when operating on wood.
Cons
The front brace of the machinery might feel a bit flimsy, which questions its sturdiness.
Opinion
Upon unboxing and assembling Dewalt's 6.5-amp jointer, I set about putting it to good use. I was very happy at how powerful it was, for it sliced through a lot of the wood I was expecting to get done in two days- this product got it done in one! Also liked just how stable it was with the clamp; I had no problems with the jointer not moving during the operation.
Only thing was that the front brace did feel a bit insecure, so sturdiness was a bit of a problem.
DEWALT DW734 15 Amp 12-1/2-Inch Benchtop Planer
(Editor's Choice)

Heavy-duty and larger than its 6.5-amp counterpart, DEWALT DW734 15 Amp 12-1/2-InchBenchtop Planer contains three, replaceable cutterheads that are not only sharp, but also durable over long periods of time- all you need to do is switch them out when they dull and just replace them on the other side! It also comes with a four-column carriage lock to keep it right in place, so that it does not budge at all when in use.

Pros
Comes with 15-amps and a 20,000 rmp motor for double the power compared with its 6.5-amp version.
Consists of three helical cutterheads that are replaceable and long-lasting.
Has a four-column carriage lock to keep the jointer in place when it use, thereby contributing to safety.
Cons
Blades actually dull quicker than expected, thereby leaving a 2 to 3-inch cutting loss.
Opinion
Compared with its 6.5-amp model, this 15-amp one also from Dewalt is certainly bigger and heavier, which then translates over to being able to cut more and cut heavier pieces of lumber. I enjoyed the four-column carriage lock for stability, and it did a pretty good job of slicing everything.
However, the blades got quite dull after several uses, so then I was not able to cut as much efficiently afterwards.
JET 708457DXK JJ-6CSDX 6-Inch 1 HP Jointer
Ideal for beginners, Jet's 6-inch jointer comes with an extra-long cast iron table to help you control better the accuracy of what you are cutting. Its three, high-speed cutterheads are easily replaceable and its four-inch dust port offers a cleaner way to dispose dust and debris that arises from the slicing process. That said, Jet is worth a shot!

Pros
Is a 6-inch model, so that it is manageable for beginners while still being able to successfully produce consistent woodwork for home projects.
Contains an extra-long cast iron table for better control and accuracy when operating the wood jointer.
Has a four-inch dust port for easily getting rid of dust and debris, so that you do not need to clean up as much afterwards.
Cons
Might not make the smoothest cuts, for the surface of the wood might be jagged and uneven in certain parts.
Opinion
Considering that I am beginner when it comes to woodwork, I liked the fact that Jet's 6-inch jointer is geared towards novices. That said, I was able to operate it with relatively little difficulty, and I also found it incredibly safe to use. Even better, I did not have to clean up much after because of the four-inch dust port!
I guess the only downside was that the cut wood was not as smooth as I expected, but it got the job done.
MicroJig GRR-RIPPER Advanced Jointer
MicroJig GRR-RIPPER Advanced Jointer prides itself in being one of the sturdiest jointers out there. With a three-directional force feature, it prevents kickback from happening while being in operation and also consists of a moving blade guard hand protection for your own safety. It offers stability and a set of instructions to get you well on your way.

Pros
Contains a three-directional force feature to prevent kickback, therefore a sturdier surface.
Has a moving blade guard hand protection for keeping you safe from harm's way.
Can also be used with other products, including band saws and router tables.
Cons
Might have some difficulty grabbing and keeping the wood in place, which can be problematic when cutting.
Opinion
MicroJig's advanced jointer was great in helping me operate the woodwork, for I experienced absolutely no kickback from it. I also greatly appreciated the moving blade guard hand protection feature, and I was able to keep myself away from harm.
My problem with it, though, is the fact that it could not really grab and keep the wood in place, so I had to be careful in that respect.
Winner of the Roundup
Overall, I found DEWALT DW734 15 Amp 12-1/2-Inch Benchtop Planer to be the most effective jointer-planar to use for my woodwork.
Not only was it super powerful, but it also had the helical head blades for the sharpest and most efficient cuts out there. The four-column carriage lock system was a plus in safety, and altogether, it is a solid candidate for your woodwork experience.
Happy woodworking!