"I hope you love the products I recommend! When you buy through links on sharycherry.com, I may earn an affiliate commission."
Maybe you are really keen on cultivating a garden full of luscious plants, flowers, and crops, and are finding new ways to challenge yourself with growing better and better with each project you take on.
Perhaps your latest assignment has you growing plants through a hydroponic system, which relies less on soil than it does on solely nutrients to grow (for more information on hydroponics, you can read our article here).
While you might have the system ready to set up and go, you might be feeling at loss of what kind of nutrients you will need in order to make your plants and crops grow effectively. As a result, you may be feeling a unsure of where to start, and this can definitely be a stressful situation.
Hopefully, there is no need to worry; we are here to help! In this article, we will help you find the best hydroponic nutrients in order for your garden to flourish, as well as offer you some of our top picks to get you started. Soon enough, you will have a teeming and lovely garden to call your own- all thanks to yourself!
Without further ado, let's begin!
**Below, you'll find our more detailed reviews, but you can also click the links above to see current prices or read customer reviews on Amazon.
Things to Look for When Buying Hydroponic Nutrients
Before purchasing your hydroponic nutrients, you will first need to consider a few, important aspects concerning the type of ones you would like to have in your backyard. When it comes down to it, it will depend on how exactly what kind of plants, flowers, or crops you will be growing, and to what size.
Keeping these things in mind, here are some aspects for you to think about:
Type of Fertilizer
Just like with non-hydroponic planting, fertilizers are much needed for hydroponic systems. After all, plants and crops need to get their nutrients from somewhere, and that place is in fertilizer.
Depending on what and how you would like to grow your plants and crops, there are two different types of fertilizer to consider:
1. Liquid
Commonly used for personal garden growth, liquid fertilizers for hydroponic systems are best for cultivating small areas such as in your backyard, and they are typically made from a one-part premixed substance that allows for even beginners to hydroponic gardening to be able to use it easily and without any problem. Plus, they are already prepared for you, so all you have to do is open it and apply!
2. Powder
On the other hand, powder fertilizers are ideal for larger plots of land, and they are especially used for harvesting large farms for commercial purposes. Unlike their liquid counterparts, powder fertilizers come in two parts of substance (one part calcium nitrate, the other general nutrients), meaning that you will have to mix them together before applying them to your plants and crops.
A rule of thumb for powder fertilizers is to mix them separately before mixing them together, since calcium nitrate is not good at dissolving in solution. While more technical to handle, powder fertilizers can save you the time and cost than for liquid ones.
EC Levels
Known as "electrical conductivity," EC levels refer to how much nutrient does your system have at a given point, as well as letting you know when it is running low and when you need to replenish it. Typically, the ideal EC level is somewhere between 1200 to 1500 parts per million, so making sure that your nutrients are in check will yield to a healthy, growing-efficient garden.
pH Levels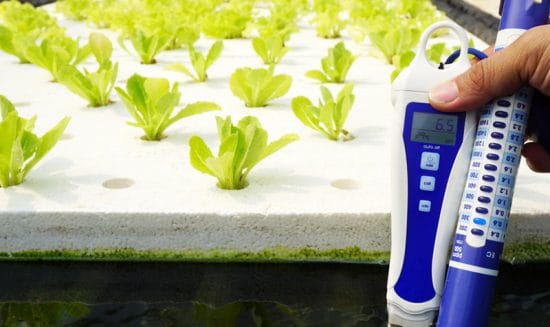 Again, just like with any fertilizer and growing process out there, checking pH levels is super important to the health of your plants and crops. Depending on what you grow, you will need to figure out if the plants and/or crops require more acidic or basic levels and as a result you will have to adjust with a dosing system which hooks up to the water system and automatically corrects for the right pH level.
Convenience vs Experimentation
This point is more of a personal one, for you will need to decide whether you are using the hydroponic nutrients for an already-established system or using it for your first time to try it out. In other words, it will depend on whether you want to go for convenience or for experimentation.
That said, if you choose convenience, then powder fertilizer will be the best way to go, since it targets a large area of crops and leaves little room for errors. On the flip side, if you decide on experimentation, then liquid fertilizer will do the trick, since it is easy for beginners to use and comes well-prepared to help you get started.
Top 5 Best Hydroponic Nutrients Reviews for Gardening
General Hydroponics Flora Grow, Bloom, Micro Combo Fertilizer set
Consisting of primary, secondary, and micronutrients, General Hydroponics' Flora Grow fertilizer set has got you covered when it comes to growing some of the biggest, best-quality plants and crops out there. What makes this product even better is the amount of freedom you can take for mixtures, in order to create the best balance that caters to your plants' exact needs.
Pros
pH system is well-balanced, meaning that you do not need to constantly check and adjust for it.
Contains primary, secondary, and micronutrients for a richer, more diverse medley of plants and crops.
Mixture can be adjusted to any percentage of each component to cater to your plants' and crops' needs.
Cons
Could be more convenient if bottles came individually with nitrogen, potassium, and phosphorus for better N-P-K control.
Opinion
Upon buying and using General Hydroponics' Flora Grow fertilizer set, I found it to be quite easy to use, especially as a beginner to hydroponics. Really enjoy how I can set my own mix ratios for the best results.
Only thing would be that the bottles could have come with nitrogen, potassium, and phosphorus individually, for an even easier process.
General Hydroponics MaxiGro for Gardening, 2.2-Pound
(Editor's Choice)

Dry-concentrated and water-soluble, General Hydroponics MaxiGro not only works well in hydroponic systems, but can also be used in soil-based gardening, thereby saving you the hassle of needing to purchase another fertilizer for plants in soil. Convenience aside, GH guarantees maximum growth from its MaxiGro line, thereby making you happy with the results.
Pros
Is dry-concentrated and water-soluble, which makes it all the easier to open and apply to your hydroponic system.
Can also be used with soil-based products, hence being versatile in that respect.
Is able to cultivate and grow crops to their maximum potential within a couple of weeks.
Cons
Drops pH levels rapidly, so it is necessary to add in baking powder or baking soda to get the levels back up for a stable, balanced nutrient system.
Opinion
I bought and tried out
General Hydroponics' MaxiGro fertilizer
solution, and I found it to be quite ingenious with its ability to cultivate in both hydroponic and soil-based systems; that said, I laud it for its versatility. It helped me grow my crops within two weeks, which I was really happy about, but I wish that the pH did not drop so low, since I have to constantly add bases to keep it up.
Tomato Hydroponic Nutrients 2 lbs - 128 Gallons - Complete Nutrition Fertilizer
As evident in its name, 5GallonBucketHydro's tomato hydroponic nutrients are excellent for planting and growing those red, juicy fruits that you have come to love. It contains a hefty five macronutrients, six micronutrients feed for an enriched experience, and even better, it is in powder form, so less cost and hassle to ship it from way over.
Pros
Has a five-macronutrient, six-micronutrient mixture, which not only contains the essentials to help it grow, but also extras for fortification and otherwise an extra boost in cultivation.
Comes in powder form, so you can grow more with a larger area, as well as cut down on costs and time for shipping from where it comes from.
Only requires a bucket and a measuring cup to get started, so it is perfect for beginners and professional alike.
Cons
Mix is used after blooming, so beforehand it requires purchasing calcium nitrate in order to get started, which can be a hassle.
Opinion
I enjoy growing tomatoes, and so I was over the moon when I found out that this tomato hydroponic nutrient mix existed; of course, I went ahead and bought it. Even more so, I was very glad to see it packed with so many nutrients, both macro and micro, and had no problem mixing it up to get started.
Only thing, however, is that the mix can only be used after blooming, so that required me to get calcium nitrate in order to get it started growing, which was a bit inconvenient, but not too bad.
FoxFarm FX14050 Big Bloom, Grow Big & Tiger Bloom Liquid Fertilizer Nutrient Trio Hydro-Formula
Best for mature, late-season plants and crops, Fox Farm's liquid fertilizer nutrient not only cultivates what you choose to grow, but also takes good care of it through its Big Bloom feature, which actually goes in to heal root systems, as well as fortify nutrients during their cycle. You can expect to see a lot of green growth happening soon afterwards.
Pros
Consists of a Grow Big Hydro feature for fresher, brighter green growth in all of your plants.
Has the Big Bloom feature that not only cultivates, but also heals root systems and keeps plants fortified with nutrients.
Cultivates plants super quickly, in as little as ten to eleven days.
Cons
Grow Big Hydro and Big Bloom features can be incredibly acidic, thereby requiring them to be watered down with basic solution to keep the pH in check.
Opinion
Fox Farm's liquid fertilizer had plenty of features of which I enjoyed, including the Grow Big Hydro that left my plants super green and healthy and the Big Bloom to keep the roots healthy and in tip-top shape. I was also amazed at how quickly my plants grew; in less than two weeks, they were huge!
Only thing was that the features are very acidic, so it was kind of a hassle to tone them down often.
Growth Science Nutrients Base A (5.5-0-0) liquid nutrient feed and fertilizer plant food solution
Growth Science Nutrients' liquid fertilizer comes with both base A and base B, each of which contain the essentials including nitrogen, phosphorus, and potassium, as well as some micronutrients for that extra boost in growth. It can be easily fine-tuned and is perfect for both beginners and advanced gardeners to use.
Pros
Comes with Base A and Base B, and each contains the necessary NPK ingredients and also micronutrients for extra fortification.
Easy to fine-tune to your gardening needs, and serves as manageable for both beginners and professionals to use.
Is compatible with hydroponic, soil, and coco mediums, thereby being versatile in all aspects of gardening.
Cons
Might be a bit too strong for a full dose depending on the plants, so might need to do half dose to start out with.
Opinion
In essence,
Growth Science Nutrients' liquid fertilizer
was super rich in nutrients and before I knew it, I saw progress in my plants within a few days. I admit, though, it was a bit too much at full dose when I applied it to my plants, so I will be applying a half dose next time to slowly ease them into this new feed.
Winner of the Roundup
Overall, I would have to say that General Hydroponics MaxiGro for Gardening, 2.2-Pound was the winner on this list, for it not only comes with a dry-concentrated, water-soluble solution system to easily open and apply to plants, but also can be compatible in both hydroponic and soil-based solutions for versatility. This product went beyond the basics, and it is a good one for you to get started with.
Happy gardening!