"I hope you love the products I recommend! When you buy through links on sharycherry.com, I may earn an affiliate commission."
Perhaps you have a passion for gardening, for your green thumb is uncontrollable when it comes to plant, watering, and otherwise cultivating some of the biggest, brightest, and healthiest plants and crops out there. You dedicate much of your time tending to your lovely backyard each week, if not every day, giving your plants and crops all the love and care that you can muster.
With that said, taking your passion in gardening above and beyond requires a lot of work, not to forget some of the best tools out there. Perhaps you are already set with a pruning saw, maybe even an extendable hose. All the same, with these tools you feel prepared to take on any type of garden work out there.
However, at the same time you might be missing a hose nozzle to water your garden, and so you are setting out to find one. Even though you might be a pro at gardening, you might be unsure just where to find a hose nozzle, let alone the best one.
That is why we are here to help! Read on in this article to find the best hose nozzle for your garden. We will give you tips on how to go about finding a good one, as well as give you a few of our top choices to get you started. Soon enough, you will be watering your garden efficiently. Let's begin!
**Below, you'll find more detailed reviews but you can also click links above to see current prices and read customer's reviews on Amazon.
Things to Consider When Finding a Hose Nozzle
Although it is such a simple item, you will be very surprised to discover that there is a large variety of different hose nozzles out there, all of which serve different functions depending on the watering purpose.
You might find all of this very daunting, but do not fret: we are here to break down some of the different factors you will need to consider when choosing the best hose nozzle for you. Here they are:
Type of Hose Nozzle
Generally speaking, there are just a few types of hose nozzles you can choose from. Some are more durable than others while others are sturdier. Here are the ones to look out for:
Plastic. Usually cheaper and lighter than metal hose nozzles, plastic ones also can risk being not as sturdy or of high quality. That said, if you do not mind the lack of sturdiness, then perhaps plastic hose nozzles will do the trick.
Metal. Heavier and sturdier than plastic ones, metal hose nozzles are more durable and longer-lasting, although it can have the tendency to rust, as well as be uncomfortable to handle for long periods of time.
Mixture of the Two. Having a hybrid of metal and plastic can be a good alternative to all-plastic or all-metal hose nozzles, for it offers the durability of metal and the lightness of the plastic versions.
Material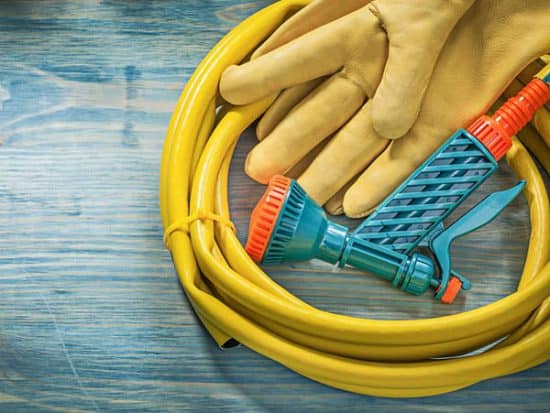 Similar to the type of hose nozzle, the material of it depends on which type you choose, especially for the metal version. Here are some of them: Aluminum, Brass, Zinc.
Again, depending on the circumstances, you might find these metal hose nozzles to be quite heavy and uncomfortable to operate, so it is up to you to decide on just what you would like to get.
Style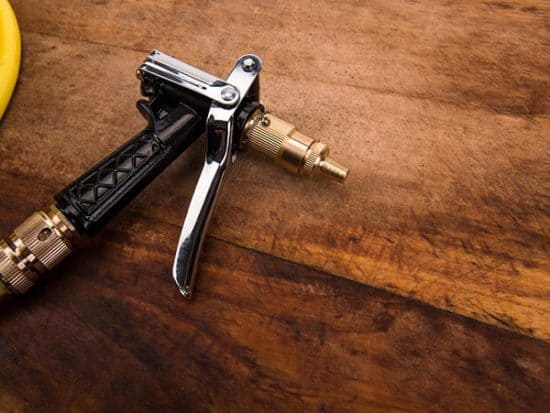 As for the nozzle itself, there is a huge variety of the different water pressure and flow design that you can use, depending on your garden's needs. Here are just a few of them:
Pistol grip.

Direct and pin-point, the pistol grip offers a very precise and thin spurt of water to target specific areas of specific plants, flowers, and crops.

Dial/turret.

A popular one, this specific nozzle can have you adjust the water stream using anywhere from two to eight different patterns. It is extremely versatile and useful.

Watering wands.

This nozzle can cover long distances, so that watering far from the lawn or up above the flower baskets will be no sweat at all.

Fan nozzles.

You often see this particular nozzle watering large areas of land, especially lawns. Just like a fan, it creates light, water streams all over the target area, all the while doing so quickly.

Fire hose

.

Commonly used by firefighters, this powerful motherload of a hose nozzle sprays gallons of water per second, as means of covering a huge area of land in only minutes. While perhaps it is not ideal for small gardens, having large acres of it might come in handy.

Traditional.

Also known as cylindrical or straight hose nozzles, traditional ones come in these two different types, which can be twisted to produce small streams or large, powerful blasts of water. Just like the dial nozzle, the traditional one is super versatile to begin with.

Soaker/bubbler.

As the name suggests, this nozzle offers a slow, soaking watering experience, of which helps budding plants and flowers to really drink up the water offered to them.
Size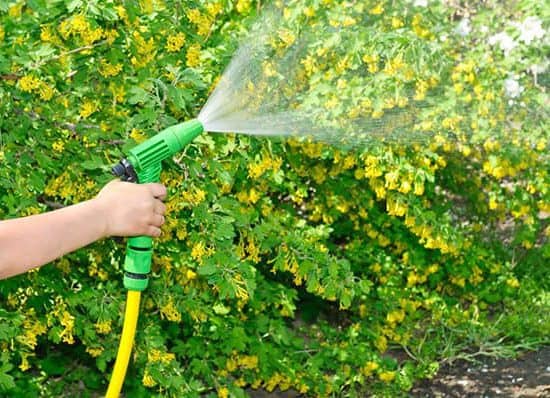 Finally, it is a matter of deciding between common hose nozzle sizes (3/4 inch, 3/8 inch, ½ inch, 5/8 inch, and one inch) and custom (in which you have to decide the specific dimensions; often, this is for industrial use). It depends on how much water you want to dispense in a given amount of time, and to how big of an area.
Figuring this part out is one of the most important aspects when deciding on the proper hose nozzle for you.
Top 5 Best Hose Nozzles Reviews
Gardenite Garden Hose Nozzle / Hand Sprayer
With a whopping 10 watering patterned feature and a strong, hefty metal and enamel finish coating, Gardenite's garden hose nozzle certainly does the trick when it comes to durability and force.
It also has a flow control knob to keep the water from the nozzle flowing regularly, so that you do not need to worry about it being inconsistent or, even worse, jamming up.
Pros
Offers up to 10 watering patterns for many options to choose from depending on the activity you perform.
Is made from metal and finished off with an enamel coating for even more durability.
Has a flow control knob to keep the water flowing regularly and consistently.
Cons
Tends to leak a lot within a few months of use.
Opinion
I bought and started using Gardenite's garden hose nozzle and I have to say that the 10-pattern feature is much appreciated for diversity reasons. Also liked how it is made from metal with a lovely coating to keep it even more durable than usual.
However, after five or so months of using it, it started to leak, which I was not thrilled about.
GRAM&I Garden Hose Nozzle
(Editor's Choice)

Made from heavy-duty aluminum alloy construction, GRAM&I Garden Hose Nozzle can be sure to be a long-lasting item for you to use all over your house and garden. Its rubber nozzle grip gives you comfort as you work, and its nine-patterned design offers plenty of options to keep it convenient for you to do your chores.
Pros
Made from heavy-duty aluminum alloy construction for durability and sturdiness.
Has a rubber nozzle grip for comfort, while also being ergonomic in design.
Has a nine-patterned spraying design to keep your options open for work.
Cons
Easy to leak, which is not desirable.
Opinion
GRAM&I Gardening Co.'s garden hose nozzle is quite strong, for it is made from aluminum alloy; I could feel the sturdiness of it just by holding it in my hand. At the same time, it is geared for easy, practical use, for the rubber nozzle grip provided comfort for me as I watered my garden.
However, the problem was that it leaked after a couple of uses, which I did not appreciate at all.
Gilmour Medium Duty Metal Full Sized Rear Control Cleaning Nozzle
Gilmour's hose nozzle is made from 100 percent metal, while also being easy to attach to just about any cleaning tool out there. It consists of a classic rear control, as well as a flow control dial to customize the force of the water stream to your liking. It even works with hard water, which often can otherwise erode the interior of the nozzle, thereby rendering it inutile.
Pros
Made from 100 percent metal, so it is guaranteed to be strong, sturdy, and durable to use in the years to come.
Consists of a classic rear control, and a flow control dial to customize the water stream force for any activity that you do.
Able to use with one hand, so you can use the other to tend to other gardening activities at the same time.
Cons
Nozzle will not close even after you finish using it, which can create problems with leaks.
Opinion
I found Gilmour's rear control cleaning nozzle to be nice and sturdy, especially since it is completely made from metal. The water stream force controls are excellent, as I was able to adjust them down to the finest detail.
Admittedly, I wish that it could come with a rubber grip, since it started to feel uncomfortable holding the metal after a while, and the nozzle did not close completely after I used it.
VicTsing Garden Hose Nozzle Spray Nozzle
VicTsing Garden Hose Nozzle Spray Nozzle comes in a variety of eight different spray options (cone, jet, center, mist, shower, rinse, flat, and soaker), thereby keeping your options wide open on just how you would like to use it.
It also comes with a small lock bar near the trigger to hold it down when watering, so that you do not need to apply consistent pressure to it and tire yourself out.
Pros
Comes in eight spray options for diversity and different purposes.
Has a small lock bar at the base of the trigger to hold it down while in use.
Has a rubber grip for easy grip and a non-slip feature.
Cons
Water pressure is not as strong as desired.
Opinion
VicTsing's garden hose nozzle is quite diverse with its eight different spraying features, which I very much liked when it came to using it for watering my garden, cleaning my patio, and even bathing my dog. The small lock bar to hold down the trigger was a life-saver so that I did not need to continually add pressure to it.
However, the water pressure could be stronger since I felt that it took forever to do my chores due to the low water stream flow.
Best Garden Hose Nozzle
100 percent leak proof with eight different patterns, Best Garden Hose Nozzle is certainly one of the best out there! Its rubber grommet and metal base connector makes all of your watering activities possible, whether for the garden or even for washing your adorable pets!
Pros
Is 100 percent leak proof, due to its rubber grommet and metal base connector.
Comes with eight different spraying patterns to keep your options open for anything.
Fits all standard garden water hoses.
Cons
The holes for some of the pattern settings might be too small for any water to come out.
Opinion
After purchasing Best's garden hose nozzle, I set about getting to work. Definitely did not leak when I used it, which was much appreciated. Also loved the eight different spraying patterns, each for different purposes.
My only problem was that the shower setting's holes were too small for any water to come through, so that was a bit frustrating.
Winner of the Roundup
Overall, the winner of this roundup goes to GRAM&I Garden Hose Nozzle. Although it had slight leaking problems at first, after a bit of readjusting it actually was no longer leaking, which was very convenient.
Its nine-pattern spray feature was diverse while also not being too overwhelming and although it was made from heavy aluminum alloy, it offered comfort with a rubber grip handle for an efficient, long-lasting experience.
Did this help you make your decision? Comment below and share these tips with someone you know!
Happy gardening!