"I hope you love the products I recommend! When you buy through links on sharycherry.com, I may earn an affiliate commission."
As a dedicated and passionate gardener, you probably spend plenty of hours each day tending to your lovely garden, as means of making sure that it is in its best and finest shape. From pruning to watering to fertilizing, you do just about anything to keep the area happy and healthy.
That said, with just how much time you spend in your garden every day, let alone week after week, you probably have specific gardening clothes and equipment to help you get down and dirty without having to worry about soiling your other garments.
Wearing old and comfortable clothes is one good way to go about it, but perhaps you might also want to consider getting gardening shoes, if you have not already.
Gardening shoes are a great alternative to sneakers for many reasons, one of which is that they are meant to get dirty, and interestingly enough look the most attractive when a bit of dirt is thrown on it.
With normal shoes, they are not meant to get soiled up, and require lots of cleaning up afterwards whereas for gardening shoes, it is not necessary.
How do you go about getting gardening shoes? While you can get them at your local gardening and hardware store, we are here to give you some of our top-favorite gardening shoes to make it easier.
Read on to learn more about how to find the best gardening shoes for you, as well as receive some product suggestions to get you started. Soon, you will be ready to get down and digging in the comforts of your garden.
Without further ado, let's get started!
**Below, you'll find more detailed reviews but you can also click links above to see current prices and read customer's reviews on Amazon.
Things to Consider Before Buying Gardening Shoes
Just like any type of shoe out there, planning accordingly when it comes to finding and purchasing the best gardening shoes can really pay off in the long run. Taking the time to do your research, as well as try a few pairs on, will definitely be worth it in the end.
That being said, here are just a few main aspects to consider when looking around for those gardening shoes:
High Backs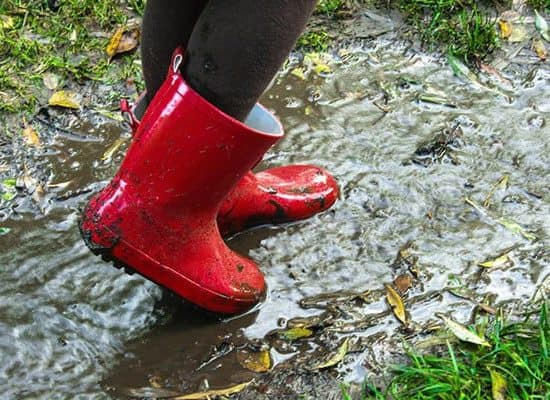 In essence, high backs refer to the length of the shoe, especially in the case of boots. It is the length from the shoe sole to the lower leg, thereby applicable to boots, in particular.
Hence, for gardening shoes, having a high back feature is extremely useful, especially if you need to tread in deep soil and fertilizer for most of the day. Having merely ankle-length shoes might not be sufficient, since dirt and other earth properties can easily get into your feet and otherwise dirty them up.
That said, having high backs that cover at least up to mid-calf is worth the investment, for the sake of keeping you clean.
In addition, having clogs (aka thick, wooden soles) can be an advantage to have, just because they can take a beating when it comes to treading all over uneven, unstable surfaces such as that of your garden. Considering that, along with high backs, can lead to an ideal combination for your gardening shoe-wearing experience.
Sturdiness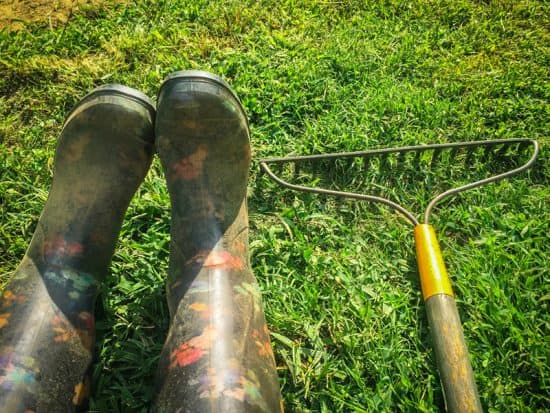 This is a clear obvious, but material that is not sturdy will be a waste on your purchase, in particular if you tend to garden a lot and need to wear the shoes for long periods of time. Therefore, having a gardening shoe that is made from tough and sturdy material is the way to go.
Material such as leather or some other durable fabric is ideal, and from there you can stomp all over your garden without worrying about wearing them down anytime soon!
Waterproof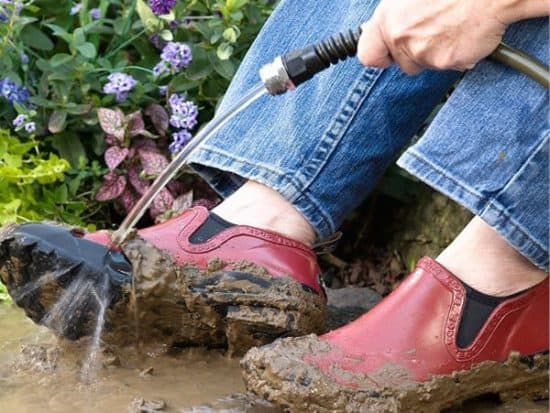 Especially if there is rain or if your garden tends to be rather water-clogged, then having a pair of gardening shoes that are waterproof is important to purchase. Not only does it save the hassle of having to clean your shoes after each gardening session, but also it saves you the time when it comes to doing other activities, whether in the garden or elsewhere.
Good Treading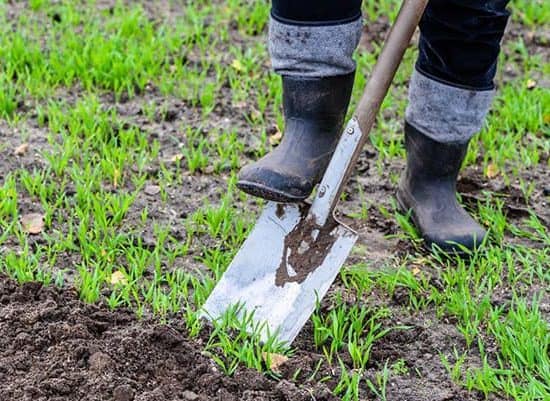 You might wonder what this means exactly, but in other words, a gardening shoe with good treading refers to it being stable and non-slippery. Especially if you will be walking on soil and grass, of which sometimes can be prone to being moist and slippery, having treading on your shoes will help you prevent yourself from otherwise sliding off and falling on your behind.
Top 5 Best Gardening Shoes Reviews
Sloggers Women's Rain and Garden Shoe
Versatile in that it is both a rain and a gardening shoe, Sloggers women's rain and garden shoe is perfect for walking in the rain, working in the garden, or even doing both, if you so desire!
Not only that, but also it comes with a comfort sole built into the inside of the shoe for a pleasant, all-day wear, so that your feet will not feel tired or achy afterwards. As a result, you can get right back into gardening the following day (and then some)!
Pros
Has a deep-lug tread for excellent traction, so that you do not slip and slide all over the place.
Perfect for both walking in the rain, working in your garden, or doing both.
Comes with a built-in comfort sole for all-day wear, so that your feet do not get overly tired at the end of it all.
Cons
The heel can slip off, which can be a problem when in the middle of walking in garden soil and fertilizer.
Opinion
After purchasing and receiving Sloggers women's rain and garden shoe in the mail, I set about to putting them on and getting right down to work. These shoes are pretty amazing, especially durable when it comes to working in the rain and in otherwise dirty conditions.
Not only that, but it comes with a built-in comfort sole and never had I felt so comfortable working on my garden for the entire day than with that piece of item inside my shoe. Granted, the heel slips off from time to time (a bit too low for my taste), but otherwise not a bad investment to get started with!
The Original MuckBoots Daily Garden Shoe
This synthetically-made, rubber-sole gardening shoe from Muck Boots is lightweight and waterproof, thereby giving it an all-around, wholesome quality to it. It is what you need in an ideal gardening shoe, from the durable material to traction to the weather-resistant features.
Even better, it has a self-cleaning, multiple-ribbed outsole so that you do not need to clean it up yourself, and instead let the shoe do so itself, consequently saving you the time and effort to perform other activities inside and outside of your garden.
Pros
Is lightweight and waterproof for an easy-to-manage and protective gardening shoe.
Synthetically-made for better longer-lasting durability.
Has a self-cleaning, multiple-ribbed outsole for cleaning itself up, so that you do not need to do it yourself.
Cons
Sizing can be a bit of a hassle since the brand does not offer half sizes.
Opinion
Once my Muck Boots daily garden shoe arrived in the mail, I was eager to tear open the package and put them on, then get right into gardening. So far, they have not disappointed me in terms of being lightweight, but also super durable and protective from gardening debris.
Also really enjoyed its self-cleaning outsole so that I do not have to clean it myself. Only problem was that the shoe sizes do not come in half sizes, so I had to be careful when picking out the right fit for my feet.
Sloggers Women's Premium Garden Clog
(Editor's Choice)

Made in the USA and from 100-percent recyclable material, Sloggers Women's Premium Garden Clog meets good practice standards while all the same having excellent properties for gardening to your heart's content.
For one thing, it is completely waterproof, as well as able to be easily hosed if any debris remains on it. Even better it has a moisture-wicking and an anti-microbial insole, so as to keep your feet clean and dry even through the dirtiest of gardening projects.
Pros
Made domestically and from 100-percent recyclable material for good environmental practice standards.
Is waterproof and easy to hose if some dirt or mud is left over from work.
Has a moisture-wicking and an anti-microbial insole to keep the feet clean and dry while working.
Cons
Can be difficult to walk in, especially if you want to also use it for casual wear, instead of just inside the garden.
Opinion
Sloggers Women's Premium Garden Clog had really useful characteristics when it came to gardening efficiently. I was not aware that it had been made from 100-percent recyclable material, but all the same, it is a wonderful, environmental achievement!
Otherwise, the moisture-wicking and anti-microbial insole was great for cleanliness and dryness even when working in wet conditions. Granted, they are a bit clunky to walk in and are not the best for casual wear, but in the garden, they work great.
Sloggers 5116CDY10 Chicken Print Collection Women's Rain & Garden Shoe
With a fabulous chicken-print design, Sloggers 5116CDY10 Chicken Print Collection Women's Rain & Garden Shoe is worth the investment if you are aiming for not only practicality, but also style.
Aside from being colorful and aesthetically-pleasing, it also is incredibly easy to slip on and has a waterproof rubber sole for traction wherever you walk. It has the standard all-day comfort insole, as well as a heavy-duty, lug-tread outsole for good treading.
Pros
Has a colorful motif print to spice up your usual normal shoe wear when working in the garden.
Has a waterproof rubber sole for ideal traction.
Has a heavy-duty, lug-tread outsole for easy treading.
Cons
Sizes can run on the small side, as well as being quite narrow.
Opinion
I am into colorful patterns on shoes, so I was keen on wearing Sloggers' chicken print design for my next gardening project. What made this even better was that it did not sacrifice practicality for style, as I was still able to work with it being waterproof and having good traction.
Only thing is that it might be comfortable to wear for people with wide feet, since it can be quite narrow.
The Original MuckBoots Unisex Edgewater Camp Shoe
Made from a combination of rubber and textile, The Original MuckBoots Unisex Edgewater Camp Shoe is waterproof and specifically designed with a stretch-fit topline and pull-on loop at the back, so that you can easily slip them on and off for and after work.
Its distinctive TrackTol outsole also makes for excellent traction, so that you do not slip when treading on soil and other gardening paths.
Pros
Made from rubber and textile, which gives it a durable and flexible quality.
Has a special stretch-fit topline design and pull-on loop to help you slip in and out of your work shoes easily.
Has a TrackTol outsole for good treading and non-slippage while working in the garden.
Cons
Can get uncomfortably hot and cumbersome to wear for extended periods of time.
Opinion
After trying on Muck Boots' gardening shoes, I found it to be rather good at keeping myself stable and less likely to slippage when working on my backyard. The pull-on loop is a small feature to have, but all the same has been so useful when getting in and out of the shoes with ease.
However, it does get rather hot inside of the shoe when working for a long while, and so my feet are all sweaty whenever I finally take them off at the end of the day.
Winner of the Roundup
Although it was a close tie among two of the products listed, the winner of this roundup goes to Sloggers Women's Premium Garden Clog.
Simple in design, but made from sturdy and durable synthetic material, this product is waterproof and has that moisture-wicking and anti-microbial insole to set it apart from the others, ultimately giving it the upper hand as the ideal gardening shoe to choose for your next purchase. Try it today!
Happy gardening!