"I hope you love the products I recommend! When you buy through links on sharycherry.com, I may earn an affiliate commission."
Just like with finding good pruning saws or pole saws, when it comes to finding the best bow saw for gardening, it can be a bit difficult to do at first. Especially if you are new to doing this kind of work, you might perceive it as being quite daunting, let alone intimidating to do. Because of that, you might get discouraged from doing so.
However, there is no need to fear; we are here to help! In this article, we will give you the lowdown on how to find a good bow saw for you, as well as offer you suggestions on certain ones that you might want to consider purchasing. Soon enough, you will have a wonderful, clean garden in no time.
Without further ado, let us begin!
**Below, you'll find more detailed reviews but you can also click links above to see current prices and read customer's reviews on Amazon.
Things to Consider When Purchasing a Bow Saw
Of the various aspects you ought to consider when looking for and eventually buying a bow saw, you will need to pay attention to some of these ones here:
Length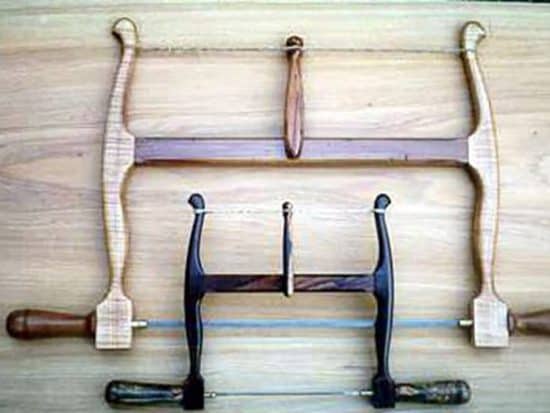 Ranging from 14 to 36 inches, bow saws can really vary in length depending on what you would like to cut. A rule of thumb is that, the longer the bow saw is, the larger the wood you are processing will be. That said, it is important that you look into what can of length you will need; here are a few ranges to consider for you:
14-18 inches.

These are the smallest ones around, and they are usually reserved for small activities like woodwork or design. They are not as sturdy as their longer counterparts, since they are designed to slice through thin pieces of wood.

21-30 inches.

Although this range is of more medium length, the bow saws still might have difficulties cutting through wood as thick as 12 inches. That said, it can handle thicker wood than bow saws of 14 to 18 inches, but still require some effort for other larger pieces.

30+ inches.

Ranging to as long as 36 inches, bow saws that are typically this long can slice through just about any thick log out there. However, while it certainly gets the job done with bigger objects, it might not be wise to use it for small, fine-tuning work since it is specialized to cut through heavy things. Nonetheless, you can be sure to rely on this tool for most of your muscle work!
Cutting Strength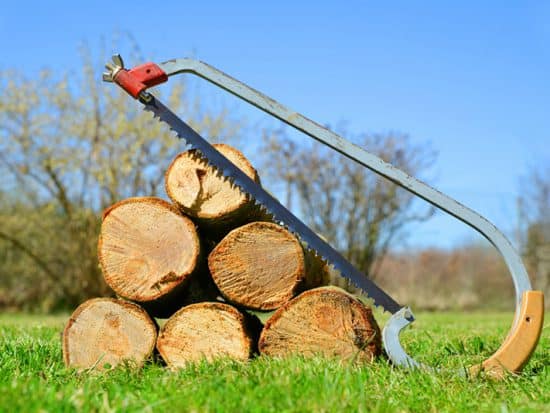 Aside from its size and length, bow saws also need to have a good amount of strength to be able to slice through even the toughest wood. Granted, this is in part due to your own strength, but still, the bow saw needs to have somewhat of a power to be able to help you out.
In essence, you can divide bow saws into two parts in terms of cutting strength:
Dry wood.

Also known as "pre-cut wood," having a bow saw that cuts through dry wood refers to that of lumber or timber. In other words, the wood has already been prepared to be cut, and so it can be a good way to cut and design your garden bed from this.

Green wood.

Commonly used to trim living plants such as bushes or overgrown branches, green wood bow saws are the way to go in terms of sprucing up your garden a bit. It is incredibly beneficial, especially for keeping your beautiful garden in clean and pristine conditions.
Protection
Considering that you are working with something quite sharp and dangerous if not carefully handled, having a bow saw with added protection is just as important as the functionality itself.
For instance, having a knuckle guard to keep your hands contained as you saw, as well as an easy-to-grip surface for avoiding slippage, are ideal to have, since then you can be rest assured that you will prevent any possibly injuries from happening to yourself while also continuing on with your day-to-day activity of gardening.
Design
Interestingly, you might find that there are different bow saw designs to look into when picking one out. Here are the two main ones to consider checking out:
Angled design.

Also commonly known as having a "pointed" edge to them, this particular bow saw is made in a way that you can reach smaller spaces—nooks and crannies—for a more precise cut, if necessary.

Oval tube design.

With a more rounded-out shape, this type of bow saw offers more comfort than others by reducing the stress that occurs when slicing through wood. In essence, it goes more by comfort than necessarily by convenience of slicing.
Top 5 Best Bow Saws Reviews for Gardening
Bahco 10-30-23 30-Inch Ergo Bow Saw
Designed to slice through even the toughest of green wood, Bahco's ergo bow saw extends up to 30 inches and has a great tensioning system for straight cutting, while at the same time being super lightweight and easy to handle. From your home gardening to construction sites, this ergonomic bow saw can do all of that and also keep you comfortable with all of that.

Pros
Extends up to 30 inches, which can cut through even the thickest of wood.
Offers an excellent tensioning mechanism for high blade tension, which contributes to straight cutting.
Is lightweight and durable, made from steel tubing for easier handling.
Cons
Not very well-welded, especially between the blade and attached bolt.
Bends when in use, even in 4 to 5-inch wood.
Opinion
I first purchased Bahco's ergo bow saw and set it to good use right away. I really appreciate that it goes up to 30 inches, which can then help me cut through 12-inch thick wood pieces, if need be. Its high blade tension and straight cutting are very convenient, and its lightweight feature is very encouraging.
However, I had the issue of the bow saw bending on me, even on the verge of breaking, which worried me for its durability.
Irwin 218HP300 12-Inch Combi-Saw
(Editor's Choice)

With a welded frame and a knuckle guard, Irwin's combi-saw is a versatile item to have in terms of flexibility and protection. It is so strong that its deep throat design also enables you to cut through even the roughest and toughest materials out there, including metal and plastic. It is flexible, but also allows for a faster cut to happen, thereby getting the job well done in no time!
Pros
Contains a welded frame for sturdier flexibility, as well as a faster cut off of the trees.
Has a wood and/or metal blade for flexibility, in terms of cutting through either wood or metal, as evidently said.
Consists of a knuckle guard for protecting you from possible slippages and dangers.
Cons
Can be on the small side, which is not ideal for large trimmings.
Can wiggle a bit when in use.
Opinion
Irwin's combi-saw
is a solid one to use, for it is diverse in its quality of materials that it can cut down, whether it is wood, metal, and plastic. Definitely felt sturdier and more flexible compared to other brands, but it could be improved on by making it bigger for larger items to cut through. Just a thought!
Gilmour 21-Inch Bow Saw 521
Consisting of non-stick coated blades and edge hardened blades, Gilmour's 21-inch bow saw has the grip and stability needed to slice through even the toughest of branches or bushes in your backyard.
It also comes with comfortable hand grips so that you do not get your hands too swollen from holding it straight-on. Its self-adjusting blade tension is a plus, too, so that it will be neither too loose nor too tight for you.
Pros
Blades can rotate 45 degrees and 90 degrees for that extra flexibility when working around a branch or a bush.
Has a 5-inch cutting length, which works well with smaller projects such as woodwork.
Contains comfortable hand grips to keep your hands in an easy, sturdy position needed for clean, straight slicing.
Cons
Might not be the sharpest bow saw out there, but is good for beginners.
Still in its prototype stage, so not a lot of feedback yet.
Opinion
Still a relatively-new product, Gilmour's 21-inch bow saw was not too bad when I first purchased and used it. I enjoyed the flexibility of its rotation feature, as well as its comfortable hand grips for when I was cutting through some thin branches.
Granted, it is not the sharpest, but it is good for those just starting out with this particular type of bow saw.
Fiskars 7029 Bow Saw, 21-Inch
Fiskars' 21-inch bow saw has a rust-resistant coating to keep it from getting rusted, which can then prolong its longevity. In addition, it does well with its safety tension lever and lightweight tubular steel frame for better sawing control and portability, respectively. It also comes with replacement blades should your original ones ever get blunted or worn out over time.
Pros
Is long-lasting with its rust-resistant coating.
Consists of a safety tension lever for improved sawing control.
Can come with replacement blades in the case that your current ones get worn down.
Cons
Its rivets appear delicate and flimsy, which is not reassuring while performing heavy-duty sawing.
Handles can be slightly uncomfortable, so you will need to wear gloves or add padding to it.
Opinion
Upon using Fiskars' 21-inch bow saw a few times now, I have found it to be quite good in remaining rust-resistant. I also greatly appreciate it having safety precautions, as well as not being too heavy to carry around with me whenever I go.
The only aspect I wish that could be improved is its rivets, which I have found not very stable and worrisome should I decide to use them for slicing harder, thicker surfaces.
Sven Saw 21" Saw
Weighing less than one pound, this Sweden-inspired saw is portable and foldable in up to 21 inches in length, thereby allowing you to cut through up to 5 inches in thickness for tree branches, leaves, and shrubs in your garden.
This special saw is especially great for carrying around when it comes to camping and/or emergencies, should a fallen tree branch or an overgrown bush ever were to appear out of nowhere.
Pros
Is portable and foldable, so that you can pretty much pick it up and take it around with you at any time and place.
Is light and compact, which works wonders for camping trips or storing inside of your car for emergency road stops.
Easy to maneuver, regardless of strength or ability.
Cons
Dissembling the pieces of the saw can be a hassle, as well as difficult to carry around in separate pieces.
Has riveted blades which make it difficult to replace should they become broken or worn out over time.
Opinion
After hearing good reviews on this distinctive saw, I decided to buy it and give it a try on my own. I like how it is light and foldable, since I always find it a pain to lug around a long bow saw that cannot be retracted; plus, it is safer that way.
I suppose that Sven Saw could have a better way of carrying around dissembled pieces, however, since I find it rather unsafe to take apart each bit and carrying it around with me. But to each their own!
Winner of the Roundup
All in all, the winner of this roundup would have to go to the Irwin 218HP300 12-Inch Combi-Saw. Even though it does not serve distinctively as a bow saw, its versatile design makes it able to accomplish what a typical bow saw can do.
For example, it is both sturdy and flexible, and is even able to cut through metal alongside wood. It also has a knuckle guard for protection and a solid welded frame for faster cutting. Overall, Irwin's combi-saw is worth a try for you.
Happy gardening!